ISFA News, Volume 13, no. 1 (March, 2007)
ISFA Publishes Twelfth and Thirteenth Bulletins
Bulletin of the International String Figure Association, Vol. 12 (2005) and Vol. 13 (2006) were mailed to members in mid-May of 2007. Completing them required delaying the March issues of String Figure Magazine and ISFA News, but once these are published we will finally be back on schedule. Many thanks are extended to the editors and proofreaders who made it happen.
Yukio Shishido and Tetsuo Sato did a marvelous job of editing Hiroshi Noguchi's "Fifteen Years for Ayatori". A short draft was completed in early 2006, but expanding it, verifying the data within, and selecting still images from hours of video footage proved to be a monumental task. Mark Sherman experienced the same frustration in writing up Waugh's collection of Innu string figures. The instructions were finalized in late 2003, but condensing hundreds of pages of background material into a short introduction and a few appendices proved to be a major challenge that spanned several years. Similarly, Axel Reichert's translation of Raymund's Palau article was completed in August of 2004, but editing the draft, reconstructing the figures, writing the instructions, shooting the photos, compiling the distribution data, and proofreading the final article added months to the project. What a relief to see the finished product!
In technical writing, errors are likely to occur no matter how often the editors test the instructions or examine the page proofs. Already we have noticed the following typos:
Bulletin 12 (2005), page 82, line 21: The Innu name for 'Scissors' did not print correctly.
Bulletin 13 (2006), page 78, line 11: "Player A (right) has completed one repetition of Step 7;" should read "Player A (right) has partially completed one repetition of Step 14;"
Bulletin 13 (2006), page 101, line 3: delete "but with R and L reversed."
Readers who encounter additional errors are encouraged to contact us so we can compile a comprehensive list.
Preview of Fourteenth Bulletin
To prevent further delays the editors have already begun working on Bulletin of the International String Figure Association, Vol. 14 (2007). Will Wirt and Mark Sherman still have additional Navajo string figures to publish, plus a preliminary collection of Hopi and Zuni string figures. Unfortunately getting permission to publish the Hopi figures might prove difficult because of the tribe's strict adherence to intellectual property rights.
On a recent cruise to the Hawaiian Islands Will Wirt's ship stopped for four hours at Fanning Island (Tabuaeran) in the Line Islands so that passengers could buy trinkets. While there he managed to collect some string figures from vendors of Gilbertese heritage, which Will has already written up for publication in our Bulletin.
In September 2006 Philip Noble visited the Fly River in Papua New Guinea, where he collected 40 string figures. Most of these were published previously in his book entitled String Figures of Papua New Guinea (1979) or in Artists in String (1930) by Kathleen Haddon, but a few are "new". What impressed him the most, however, was "the element that is so hard to convey in written accounts: the theatrical uses, facial expressions, and other demonstrations." Reverend Noble shot video footage and over a hundred photographs, many of which will appear in his forthcoming article.
In April 2007 David Titus was likewise in Papua New Guinea and managed to photograph at least twenty different string figures being made. Hopefully we can create an entertaining article from his list of titles, photographs, and narrative.
Recently James Murphy has been sinking a lot of effort into building his own web site (www.torusflex.com) — an inspirational presentation and archive of his poetry and string figure findings, including many stunning photographs. But during off moments he has continued to explore favorite figures and study the effect of incorporating different openings. His most recent explorations have included variations of 'Texas Lone Star' (a figure by Frank Oteri), and his own 'Chopstick Heart'.
Joseph D'Antoni has always been fascinated by figures that do not display unless you use a weird hand movement such as rotating one hand ('A Turtle', Jayne pg. 271), crossing your arms ('Flint and Steel', Jayne pg. 323), or thrusting your hands downward into the strings ('Flying Fox', Smith, Bulletin 4, pg. 167). Currently Joe is writing an article on the topic.
We still have room for a few brief reports and "Letters to the Editor". Our submission deadline has been extended to September 1.
New Members
During the past six months the ISFA acquired 19 new members. If all members from 2006 renew their memberships in 2007, we will have 222 members living in 20 countries.
Our new overseas members are: Peter de Jager, Upper Beaconsfield, Victoria, Australia; Annette Hassenforder, Saint-Sériès, France; Rico Wallenta, Berlin, Germany; Jean-Christophe Démarais, Verrieres le Buisson, France; and Eric Vandendriessche, Athis-Mons, France. From Canada we welcome Dirk van Wyk and Rory McCuaig, both from Calgary, Alberta; Peggy Marques, Mississauga, Ontario; Glen McCuaig, Brampton, Ontario; and Erin McCuaig, Bowmanville, Ontario. Our new US members include Cheryl Wong, Honolulu, Hawaii, The Museum of Jurassic Technology, Culver City, California; Molly Bigknife Antonio, Window Rock, Arizona; Corby Johnson, Seattle, Washington, Brandon Lutz, Portland, Oregon; John O'Brien, Colby, Kansas; Alex Ardila, South Pasadena, California; Jon H. Waltz, Red Oak, Iowa, and Alexis Reed, Eugene, Oregon. Thanks for supporting our preservation efforts — we hope our publications bring you immense pleasure.
Member Profile
In previous issues of our newsletter we often included short biographies of ISFA members and asked them to tell us why they like string figures, but we soon ran out of volunteers! So when Michel Spira of Brazil sent us a photograph of himself wearing a hand-made string figure T-shirt we asked him to tell us more about the shirt and himself. He graciously replied with the following description: About the T-shirt: I had the idea and my girlfriend did the sewing job. Basically, I had to hold the figure on my hands while she stitched all the crossings in the air (so to speak). We then laid the figure flat on the T-shirt and secured it using adhesive tape. To finish the job she sewed the string onto the shirt from the reverse side. It was tedious but worth it. A couple of lucky friends got, as birthday gifts, T-shirts with different figures.
As for myself, I am 51 and have a Ph.D. in Mathematics (UC Berkeley, 1987). Since 1978 I have been teaching math at the Universidade Federal de Minas Gerais, Brazil. In the last few years I have been working with math undergraduates, with on-the-job training of teachers and with a major Math Olympics in Brazil.
While in the States I searched for books on knots and I chanced upon Jayne's book on string figures; of course I was hooked immediately. Coming back to Brazil I forgot about string figures for a long period, but in the late 1990s I found a copy of Elffers and Schuyt's book and my love was rekindled. It was by pure chance — thanks to Google — that I found ISFA; and I was even more thrilled that the first Bulletin I received had an article about Brazilian Karajô string figures (as a matter of fact, I contacted the author and got a copy of her dissertation. Unfortunately, she dropped the subject and is doing something else for her Ph.D.).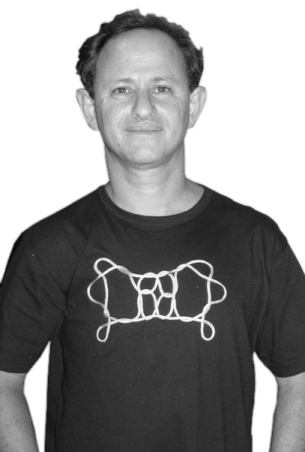 ISFA member Michel Spira in Brazil, modeling a hand-made string figure t-shirt. Photo courtesy of the seamstress.
Why am I interested in string figures? First of all, sheer beauty alone, not only in the final figures themselves but also in the methods to get them. Secondly, being a frustrated pianist and guitarist (different periods of my life), I find out I can, finally, do something beautiful with my hands (well, I make good bread and pizza too). Thirdly, as a teacher, I appreciate the fact that in learning string figures one exercises some very important mental and physical abilities — in fact, as soon as I get the time (a tall order), I want to start a string figures workshop for children, and a friend has already asked me if I would do something similar for elderly people too. And you might recall my asking you for advice on writing a book; that's another project on the shelf for the time being.
By the way, my compliments and many thanks for your wonderful publications — the world is a better place with ISFA around.
Earn a String Diploma!
Bolstered by the success of an international string figure exhibition he helped organize (described in the September 2005 newsletter), German string master Lothar Walschik (a.k.a. ABOINUDI) continues to devise innovative ways to teach children (and adults!) how to make string figures. His latest offering is a "String Figure Diploma" which children can earn upon achieving a certain level of expertise. Expertise is achieved by completing a series of lessons printed on six colorful flyers. The flyers, accompanied by a checkered loop of string, are encased in a cleverly folded box and sold as a kit (a "Gift/Learning Box"). Here's how it works:
On day one students are given a yellow string with blue checks, their so-called "learning string". Upon mastering the eleven string figures described in flyers 1 and 2, students are eligible to take Exam #1. Upon passing the first exam, students return their loops and receive in exchange a blue loop with red checks. The six figures described in flyers 3 and 4 are more difficult. Once mastered, students are eligible to take Exam #2, but since it's a cumulative exam students must again prove their mastery of the first set of figures they learned, thus reinforcing the knowledge. After that, the students must learn the entire cat's cradle series. If successful, students are permitted to exchange their blue loop for a red loop with green checks. To pass Exam #3, students must be able to make all previously learned figures plus the tricks described in Flyer 5 and the four really difficult figures described in Flyer 6. They must also prove that they are able to teach figures to fellow students. In exchange they receive a green loop with yellow checks and a signed diploma. Pictures of all the items described above are posted at ABOINUDI's website:
From there, click on the online shop link, then any of the "bild" links. The web pages (and products) are all written in German, but with a little help from Google-Translate they can be understood by speakers of other languages.
The kits and diplomas have proved to be quite popular. Currently Herr Walschik spends much of his time conducting workshops in Germany, Luxembourg, Austria, and Switzerland.
How Did They Do That?
Shortly before Easter we received an e-card from a new member (Rico Wallenta of Berlin) with a caption that reads "Happy Easter, The Little Rabbit in the Loop Garden." The photograph shows Rico and his girlfriend proudly displaying Martin Probert's 'Garden' (June 2002 String Figure Magazine) and the Klamath 'Rabbit' (Jayne, pages 79-82), but in a very unusual way: the rabbit figure passes through the center of the garden figure! How did they do that?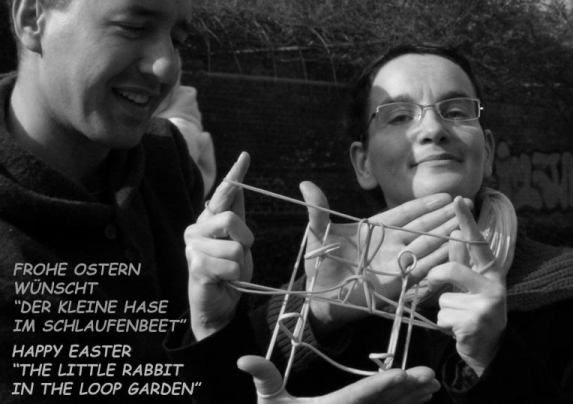 Rico Wallenta (left) and his girlfriend (right) displaying 'Little Rabbit in the Loop Garden'.
In his membership application letter Rico admits that Lothar Walshick was and is a source of inspiration. After participating in one of his workshops Rico and his girlfriend have decided to launch a string games project at the schools in Munich. He also takes strings with him whenever he goes abroad, realizing that they can function as keys for opening the doors to other cultures. So far he has traveled to Afghanistan, Sri Lanka, Indonesia, and South Sudan, and even managed to teach/learn a few string figures and string tricks in the latter two locations (to view photos visit his website at www.wallenta.de).
ISFA Mourns the Loss of Three
It is with great sadness that we report the passing of three longtime ISFA members: Carey C.K. Smith, Marcia Gaynor, and Thomas Storer.
Dr. Smith died November 15, 2006 after a short illness. He was 89. He was best known for his collection of Congo String Figures (Bulletin 4) and his String Figure Alphabet (Bulletin 8). Ms. Gaynor died January 15, 2007 after a 7-year battle with leukemia. She was 54. For many years she taught workshops in the Detroit area. Professor Storer died November 9, 2006 after a 15-year battle with congestive heart disease. He was 68. His comprehensive String Figure Bibliography (published by ISFA Press) and his two-part mathematical treatise String Figures and String Tricks, (Bulletin no. 16 supplement) revolutionized the field and created legitimacy where it was once lacking. Full obituaries/tributes will appear in the 2007 Bulletin.
---
Last updated March 31, 2009
Return to ISFA Home Page.