ISFA News, Volume 13, no. 2 (September, 2007)
Fourteenth Bulletin
Bulletin of the International String Figure Association, Vol. 14 (2007) is currently being edited. We anticipate a press run in mid-January followed by mass mailing in March of 2008. To complete the task we will need to delay the publication of String Figure Magazine Online (December 2007 issue). Thanks in advance for your patience.
As mentioned in our previous newsletter we have many interesting articles awaiting publication. Will Wirt and Mark Sherman have additional Navajo figures to describe, plus a preliminary collection of Hopi and Zuni figures. Will Wirt also has a nice collection of Tabuaeran (Fanning Island) string figures to share with members. Both Philip Noble and David Titus recently visited Papua New Guinea and are eager to report their findings. James Murphy's hands continue to dance as they fashion new and novel designs. Joseph D'Antoni's survey of string figures that are displayed using unusual hand movements is now complete and is illustrated with many outstanding photographs. Mark Sherman's tribute to Tom Storer will entertain readers with anecdotes gleaned from several decades-worth of correspondence. BISFA 14 will conclude with a selection of "Book Reviews" and "Letters to the Editor". To reserve your copy, make sure your membership is current.
New Members
During the past six months the ISFA acquired 9 new members. In addition, 2 former members rejoined. However, 76 former members failed to renew their memberships in 2007. As a result, we now have 150 dedicated members living in 16 countries.
Our new overseas members are: Janine Lennert, Munich, Germany; Tomo Noguchi, Tokyo, Japan; Kaori Noguchi, Tokyo, Japan; Ayako Ohtsuki, Saitama, Japan; and Takenori Sugibayashi, Saitama, Japan. In the US, our new members are: Elizabeth Rives, Mansfield, Louisiana; Andrew Cassady, Louisville, Colorado; Emma Walters, Baltimore, Maryland; and Adam Roth, Philadelphia, Pennsylvania. Rejoining us are Laurel Sharp, Syracuse, New York; and Brett Becker, Santa Fe, New Mexico. Your support is appreciated and vital to our survival!
String Figure Angels for 2007
Each year in January we ask members to send us $25 to partially offset our printing and mailing costs (overseas members pay $35). For the balance we rely on the generosity of passionate and/or financially secure members. Although we greatly appreciate every extra dollar that members contribute, we like to acknowledge the generosity of large contributors by dubbing them String Figure Angels. By definition, an angel is anyone who either contributes at least $25 more than the requested amount, or recruits a new member. Archangels are members who send us $100 or more.
This year we wish to acknowledge the following String Figure Angels: Daniel McCarthy, Frank Jannotta, James Foerch, Michael Dan Colgate, Julie Hocking, Audrey Small, John Pinto, Jim Bosma, Beth Anderson, Avery Burns, James Craddock, Thomas T. Kubota, Joseph Ornstein, Cathy Traut-Hessom, Catherine Salika, Randy von Smith, Ron Read, Jacquelyn Viol, Belinda Holbrook, William D. Garrison, Deirdre Ní Cheallaigh, John Sigwald, Henry Rishbeth, Sara Pickett, Thomas Rodgers, Michele Hibbins, James Murphy, and Gail Rydman.
Our String Figure Archangels for 2007 are: Karen Mori Storer, Hiroshi Noguchi, Tetsuo Sato, Yukio Shishido, Michel Spira, Fred Alcantar, Jr., Mayme Strange, Mike Sloey, David Eisenberg, Bob Grimes, Clark Crawford, David McDaniel, Carole Graham, Joseph D'Antoni, Will Wirt, Lillie Wirt, David Titus, Ken McCuaig, Lori King, Mark Sherman, and David Wilson. Thanks to you, the ISFA continues to thrive and prosper!
Member Profiles
As members of the ISFA we all enjoy making string figures. Once mastered, some of us enjoy studying and classifying them whereas others enjoy teaching them to others. In this issue we introduce two members who represent these two aspects: Janine Lennert from Munich, Germany, and Eric Vandendriessche from Paris, France.
My name is Janine Lennert. Professionally I am a social worker in Germany. I first became familiar with string figures about 7 years ago through a workshop held by – you will never guess – the famous Lothar Walschik from Bremen. Currently I work for a non-profit association called Spiellandschaft Stadt ("the City as a Space to Play in"). I specialize in the field of play works, play animation, and play busses. That means that I do different projects in schools, on playgrounds, and other public spaces to show children old and new games, as well as the culture that lies behind them.
This year we introduced the "String Figure Diploma" in Munich, based on the project that Lothar Walschik invented. I held a workshop on this subject (with ISFA member Rico Wallenta as guest lecturer) and then we brought the String Figure Diploma to five different primary schools in Munich. We taught string figures on different playgrounds, took part in many children's festivals, and really "connected" with children and adults alike by teaching and sharing this fascinating game.
A very proud child, teaching the string figure 'mosquito' to a Chinese tourist at a play festival in Munich.
Hundreds of children earned a blue string (first diploma), quite a few earned a red string (second diploma) and some really tough ones even managed to earn the famous green string with golden dots (third diploma)! Now a small group of string "addicts" meet once a month to share new figures and ideas. Currently I am planning a follow-up project in Munich in 2008.
In November I was invited to visit China as one of a hundred representatives of political and cultural education in Germany (and of course I will take strings with me!). In January 2008 I will hold another "String Figure Workshop" in Hong Kong at the World Congress of IPA (The International Association on the Child's Right to Play).
Therefore, I am really looking forward to becoming a member of the ISFA, to acquire inspiration and information that I hope to share with the uninformed, as every good "string ambassador" should!
Eric Vandendriessche
My name is Eric Vandendriessche. I am an Associate Professor of Mathematics at the University of Paris VII Denis Diderot. During the past four years I have undertaken research that falls under the heading of Ethnomathematics. I have chosen string figures as my subject matter. The game is found in many communities that have a strong oral tradition.
The challenge of my research, for which I received a grant, has been to analyze how the operations applied to the string can be viewed as a mathematical activity, and how the various figures that result can be viewed as mathematical objects. To carry out this project, I have approached this topic from two different angles. First, I have been working to develop a mathematical system for describing the object we call a string figure. This will eventually allow me to better understand the systems developed by those who engage in the art of creating string figures. Second, to answer some of the questions raised during my theoretical reflections, I have traveled overseas and spent time with local experts who still make traditional string figures. So far I have visited elders in Oceania (Marquesas Islands, Papua New Guinea and Vanuatu) and in South America (Paraguayan Chaco). By incorporating their views, I hope to develop a conceptual model of "string figure play" that coincides with the modus operandi of the players themselves.
Currently I am constructing web pages that describe and illustrate all the string figures I gathered during my travels abroad, including some from the Arctic, which I studied for my thesis. I am also writing an article entitled "String Figures: A Mathematical Activity in Traditional Societies" for publication in Revue d'Histoire des Mathématiques.
If you speak French, you may be interested in my thesis entitled "Mathematical Study of String Figures of the Arctic and Oceania." I also wrote an article called "String Figures: Eye-witness Accounts of a Mathematical Activity in the Arctic and Oceania (Mémoires DEA Université Paris, 7, 2004). See also "String Figures," an article that appeared in a special issue of the mass-market magazine Pour la Science, in April, 2005. In addition to writing articles, I have also organized workshops, presentations, and films on the topic. For details visit my web site on the internet, which you can access at: www.rehseis.cnrs.fr/personnel/EVandendriessche.htm
Fairly Safely Venture
In past newsletters we have reported on string figure exhibitions in Germany, Switzerland, and Japan. In December 2006 the Museum of Jurassic Technology in Los Angeles unveiled their tribute to string figures in an exhibition they called Fairly Safely Venture: Cat's Cradles and their Venerable Collectors. The title comes from a quote attributed to Haddon: "We may fairly safely venture the generalization that civilization kills cat's cradles." The title coincides with the overall theme of the museum, which serves as a showcase for esoteric curiosities, elaborate but long-forgotten philosophies, and other trivial pursuits.
As visitors browse through two small rooms they enjoy an elegant and highly professional display of string figure artifacts and multimedia content. Along the east wall of the first room visitors encounter three shadow boxes filled with string figures extended on wooden pegs. Along the west wall visitors find three large biographical panels that pay tribute to three of the most venerable collectors of string figures: Kathleen Haddon, Caroline Furness Jayne, and Honor Maude. Below each panel is a video monitor, a chair, and several loops of string. Visitors are encouraged to sit and learn the string figures being displayed on each monitor. Flanking the monitors are two display cases: one filled with coiled strings, all made from natural materials, and a second filled with photos of indigenous peoples from many countries extending their favorite figures.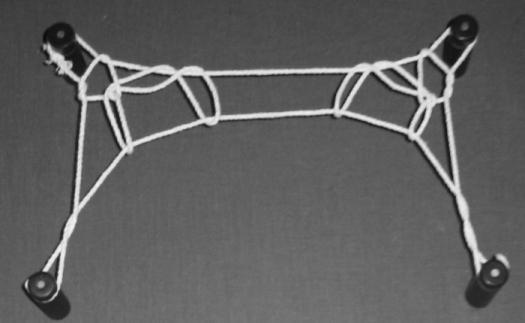 One of many string figures mounted on pegs.
As visitors enter the second room string figure chants can be heard emanating from hidden speakers. Text and graphics, painted directly on the semi-circular wall, convey snippets of string figure lore (i.e., a description of the Inuit "spirit of string figures," a description of the use of string figures to encourage the growth of yam vines, etc.). String figures extended on wax hands are artistically displayed in recessed glass cases. The last and most innovative display consists of three classic string figure books on separate pedestals, each partially opened. In front of each book is a pair of prisms which visitors are encouraged to look into. Upon doing so, the visitor is treated to a stereoscopic movie of a string figure being made.
Display case filled with coiled strings made of natural fibers.
Because of the 3D optics the hands and figure appear to float in front of the book pages, as if the printed instructions have suddenly come alive. The effect is mesmerizing, evoking many "ooohs" and "aaahs".
Admission to the Museum of Jurassic Technology is free, but a small donation is much appreciated. Back issues of our Bulletin are sold in their bookstore. For hours, location, and a summary of other exhibits, visit their website at www.mjt.org.
Jayne's classic book "String Figures" encased in glass. Visitors are encouraged to peer through glass prisms to view a three-dimensional movie of a string figure being made by hands that appear to float in front of the opened book.
---
Last updated March 31, 2009
Return to ISFA Home Page.