ISFA News, Volume 2, no. 1 (April, 1996)
Your support is appreciated!
Once again the editors of our Bulletin would like to thank all who submitted dues last year to help support the publication of volume 2 (1995). We especially appreciate the support of Dr. Noguchi and our other string figure "angels" — members who contributed extra. Although our costs continue to exceed our income, every dollar is appreciated! Financial security will come once we reach "critical mass" (250 members). You can help by promoting our organization whenever possible (make string figures in public places — you'll be surprised by how many people approach you). Or, consider giving a gift membership to a friend, family member, or local library.
Welcome New Members
Since the last issue of our newsletter, ISFA has acquired twenty-six new members. Please join me in welcoming Paulus Gerdes, Maputo, Mozambique; John Hardbattle, Ghanzi, Botswana; Jade, Wellington, New Zealand; Camilla Gryski, Toronto, Canada; Sergei Rjabchikov, Krasnodar, Russia; Tadahiro Kanauchi, Tokyo, Japan; Masashi Yamada, Koiti Yamagati, and Rahmat Budiarto, Nagoya, Japan; Luis Bonilla, Rubio, Venezuela; Leticia Ferreira, Buenos Aires, Argentina; Valerie Baadh, Brisbane California; John Burruss, Sherborn, Massachusetts; Larry Emerson, Shiprock, New Mexico; Anthony Haruch, Mahopac, New York; Paris Lamprecht, Moraga, California; Nathaniel Levy, Baltimore, Maryland; David McDaniel, the Dalles, Oregon; James Murphy, New York, New York; Paul Power, Littleton, Colorado; David Phillips, Austin Texas; Paul Pritchard, Irving, Texas; Roy Ritter, Washington, D.C.; Edd Sterchi (Wakahana), Flora, Illinois, John Van Cott, Pelham, New York, and Celeste Wheeler, Lebanon, Oregon.
ISFA does Wall Street
A short article about ISFA appeared on page B1 in the February 26 edition of the Wall Street Journal. The article, written by Elizabeth Seay, is entitled "It's a Cheap Hobby for All Ages, But There Are Strings Attached." Many facets of string figures are mentioned in the article (copyright restrictions prevent us from reprinting it here). Among them are Gelvin Stevenson's notion of string figures as "moving meditations," Alex Abraham's proposed use of string figures as "exercise for the arthritic," and James Murphy's practice of using string figures to teach math and logic. Other members mentioned in the article include Mark Sherman, editor of the association's "recently expanded" journal, nonagenarian Honor Maude, author of the "absolute bible(s) of [the] string figure literature," and Joseph D'Antoni, who closes the article with, "It's just a miracle that out of a tangle of string something will pop into view." References to Greg Keith's article "The Presence of String in the Postmodern World" and his photos showing "Mexican revolutionaries relax[ing] with string figures" are also included. The article even mentions Keith's scandalous "brassiere" figure and Noble's "lost elephant."
Needless to say, we are much indebted to Elizabeth Seay for publicizing our organization. Several dozen phone calls were logged shortly after the article appeared, most from string figure enthusiasts wanting to join ISFA. We even got a call from CNN (Cable News Network)! Publicity is indeed the key to our survival.
Member Profiles
Given the diversity of our group, Philip Noble has suggested we feature "member profiles" in each issue of ISFA News. In this issue, we introduce two longtime members. If you would like to be featured in member profiles, send us a letter describing (1) why you like string figures; (2) who introduced you to them; (3) the first string figure you ever learned; (4) your favorite string figure (include a photo); and (5) how string figures continue to enrich your life.
Sam Cannarozzi-Yada, Chasselay, France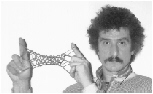 I like string figures because they are a means of non-verbal communication — I use them to tell stories and amaze my friends. Although I remember them from childhood, my current interest was sparked by Schuyt & Elffer's book. The first string figure I ever made was "Teacup and Saucer" (not counting Position 1 and Opening A, which I guess are considered to be string figures in Australia according to the article in last year's Bulletin). My favorite figure is "chocolate."
String figures enrich my life for a variety of reasons. They are great conversation starters, especially if you don't speak the other person's language. They require the use of both hands simultaneously, so the brain lives! You are in contact with the entire world through a simple loop of string. Strings span the generation gap many times over. You create the universe from nothing. They are cool...
P.S. I'm intrigued by references to songs sung while weaving string figures. If anyone knows of any recordings, please contact me!
Audrey Collinson Small, Paradise, California
Sam Cannarozzi Yada's article in the ISFA Bulletin #2, mentioning butterflies, reminded me of one of the many mysteries concerning string figures, namely, that of their close association with poetry. It was partly this mystery that started my lifelong interest in string figures.
When my mother, the late Paula Collinson, made the string figure "A Butterfly," she "lived" the metamorphosis of the larva, with such intensity and with such grace, she needed no words to describe the movements. Naturally, I, and many others who saw her performances were enchanted (including Professor Halliday of the English folklore society and, later, in the 1940's, faculty of the German department of the University of Chicago.)
As a child, I was also enchanted with poetry. It seemed no accident that later in life, Christina Rossetti's poem "Caterpillar" came to mind and I realized that her words, written over a century ago, synchronized with the movements of the navajo "A Butterfly." but this realization came only after the following incident.
My hair dresser in the 1960's, Susan Hosler of Lafayette, California had a daughter who, she told me, was mentally retarded. Because I thought string figures might be one way Susan and her daughter could share something together, I taught Susan one or two figures including "Siberian House." The following week, Susan after confiding that she'd never written a poem before, announced: "I wrote a poem!" When I asked her to recite it for me, I could tell that her topic — that of rinsing out her table mats — and the actions she described echoed the movements and the rhythms of the string figure.
Since then, mainly by integrating string figures with poetry, my "cat's cradle string" has expanded my universe, if not revealed its secrets. But no matter what my favorite string figure may be at any one time, I always come back to "Siberian House."
It was my mother who taught me string figures. Perhaps "Opening A" was my first. After learning a few more, my mother said I would have to work them out for myself from books, much as she had (she belonged to a small group of enthusiasts from the University of Liverpool). Caroline Furness Jayne's String Figures and How to Make Them then became my "bible," along with Kathleen Haddon's String Games for Beginners.
Whether with "hands on" experiences, or from the written or spoken word, I am grateful to many for the inescapable "pull" of string figures.
String Figure Magazine Debuts
ISFA Press is proud to announce the debut of a second periodical, String Figure Magazine (ISSN 1087-1527), to be issued quarterly. SFM was created in response to criticism that our Bulletin is too advanced for school children and beginning enthusiasts of all ages. As an international organization dedicated to the preservation of string figure knowledge, it is important that the information we distribute remains intelligible to a wide audience. Rather than dilute the content of our Bulletin, a decision was made to launch a second series that addresses a more general audience. In addition, it is hoped that SFM will attract today's thrifty consumer, one who wants more than a single issue of the Bulletin for their $25 annual dues!
SFM is modeled after Jayne's "String Figures and How to Make Them," and is dedicated to her memory (Jayne died prematurely at age 36). Each issue features dozens of annotated illustrations that allow even the most difficult string figure to be made with ease. Unlike our scholarly Bulletin, whose content is restricted to original material, SFM freely incorporates previously published material in an effort to make is more accessible and comprehensible. Figures whose original descriptions are hard to follow will be given top priority, as will figures whose descriptions were first published in languages other than English. Noteworthy examples of recently invented figures that first appeared in our Bulletin (old series) will also enjoy new exposure.
Inspired by the success of Richard Darsie's on-line collection of string figures, SFM was originally conceived of as a fully electronic publication (an e-zine), available only to those with access to the World-Wide-Web: the cost of printing the document is transferred to the recipient. However, upon polling many potential readers, it became obvious that only a small percentage of them enjoy the luxury of Internet access. ISFA Press will therefore print a limited number of copies for distribution to members only as long as funds are available (each issue costs around $500 to print).
Most of you will receive the premiere issue (March 1996) with this newsletter. Admittedly, the photos are grainy and the string labels somewhat difficult to read. Within the next few issues we will experiment with different backgrounds and methods of annotating the photos. Eventually, we may opt for line drawings rather than photos if the conversion can be mechanized. Your comments are welcome. If you would like to prepare photos and/or descriptions for an issue, please contact the editor. It's great fun!
Tetsuo Sato Joins Editorial Staff
Dr. Hiroshi Noguchi recently recommended that Tetsuo Sato, Ph.D., of Kumamoto, Japan, serve as our new Japanese coordinator. Sato, a member of ISFA since its founding, will assist us by collecting dues from all Japanese members, thus minimizing currency exchange fees. In addition, Dr. Sato has generously offered to translate for us articles that originally appeared in the Japanese edition of the Bulletin but not the English edition. These will appear regularly in BISFA. In exchange for his efforts, Dr. Sato has accepted the honorary position of Associate Editor. Welcome Tetsuo!
Honor Maude donates books for ISFA fund raiser
In an effort to help us raise funds for publishing our Bulletin, Honor Maude has donated to ISFA her remaining stock of string figure monographs. The titles are: Solomon Island String Figures (1978), 175 pages; String Figures from New Caledonia and the Loyalty Islands (1979), 69 pages; and String Figures of the Tuamotus (1984),150 pages, the latter co-authored with Kenneth Emory. All three volumes have been out-of-print for many years now, and are highly prized by book dealers and string figure enthusiasts alike. We are therefore asking US $35 for the Solomon monograph, $20 for the New Caledonia volume, and $30 for the Tuamotus book. Please note that the Solomon covers are damaged. Quantities are limited (less than 10 each) so act now. Orders will be filled starting May 15 in order to give our international members time to respond. If demand exceeds supply, numbers will be drawn.
Forthcoming Articles
Volume 3 of our Bulletin (October, 1996) is currently in the planning stages. Several articles have already been submitted, and others are currently being written. Sam Cannarozzi Yada has contributed two articles that are sure to please: String Figures à la French, an essay describing his collecting experiences in the villages of western France, and a translation of an article by Anne Chapman entitled Shamanism and String Magic of the Tolupan of Honduras. Thanks to some clever detective work, Tetsuo Sato has solved the mystery of the "Lost Elephant" (BISFA vol. 2, p. 190) and has written up the method for making it, along with several other animal figures invented by the elusive Dr. "Engouchi" (Eguchi). Tetsuo has also contributed a research report describing a systematic way of generating variations of the ever popular "Jacob's Ladder." Will Wirt recently ventured into the jungles of Guyana and returned with eighteen string figures and three tricks, all collected from the Wai-Wai and Wapishana people of the Amazon basin. Will's research report, which features many charming photos of the natives making string figures, is a "must read." Another research report not to be missed is Honor Maude's String Figures of Tuvalu (Ellice Islands). This small collection, assembled by Sir Arthur Grimble and the Maudes many years ago, was recently "rediscovered" among Harry Maude's papers. Joseph D'Antoni plans to contribute a small collection of figures from India, as well as a review of six recent string figure books and a videotape. Volume 3 will also feature the first installment of the "Arctic String Figure Project," a re-examination of collections made by Gordon and Jenness. The issue will conclude with more Modern String Figures and Letters to the Editor. The deadline for submission of articles is July 1.
1996 membership dues
It's that time again! If you have not already done so, please renew your membership in ISFA by submitting $25 (or more!) by July 1. A renewal form is enclosed if your membership is not current. Members receive our annual Bulletin, our semi-annual newsletter, and String Figure Magazine, issued quarterly.
---
Last updated October 15, 1996
Return to ISFA Home Page.