ISFA News, Volume 3, no. 1 (March, 1997)
1997 membership dues
Our annual membership drive is now underway! To renew your membership for 1997, please submit US $25 by June 1. A renewal form is enclosed if your membership has expired. Dues help offset the cost of printing and mailing our Bulletin, Magazine, and Newsletter (~ $6000 a year).
Overseas members will be happy to hear that we now accept Visa and Mastercard -- no more fees for money orders and checks drawn on a US bank! Foreign currency conversion is performed automatically by the card issuer.
Welcome New Members
Although we have not yet reached "critical mass" (250 members), our membership continues to grow at a steady rate. Since the last issue of our newsletter ISFA has acquired twenty new members. Most have been making string figures for years but were unaware of our organization (again underscoring the need for greater publicity). We now have 115 members submitting annual dues. Please join me in welcoming Brian Cox, Winnipeg, Manitoba, Canada; Robert DeLand, Mississauga, Ontario, Canada; Geoffrey Shephard, Norwich, England; Kent Alexander, San Francisco, California; Daniel Callahan, Anchorage, Alaska; Patty Demant, Fortuna, California; Rita Eisele, Terre Haute, Indiana; Dorothy Gohlke, Kerrville, Texas; C.J. Hartman, Castle Rock, Colorado; Allison Korczynski, Houston, Texas; Herman Lau, Sacramento, California; Sara Laughlin, Thompson, Connecticut; Joanne Mayer, Littleton, Colorado; Michael Meredith, Amarillo, Texas; Trudi Olivetti, Arlington, Virginia; Analee Perica, Northridge, California; John Peterson, Colorado Springs, Colorado; Michael Power, Girdwood, Alaska; Maggie Smith, Shelbyville, Indiana; and Leslie Tergas, Gainsville, Florida. Libraries receiving our Bulletin now include the Boston Public Library, the Smithsonian Institution, Washington D.C., the University Museum, Philadelphia, and the National Library of Australia.
Member Profiles
In this issue we introduce Brian Cox and C.J. Hartman. Both work closely with children and enjoy teaching them how to make string figures in a workshop environment.
We want to hear from you too! Send us a letter describing how string figures enrich your life. You need not be a teacher or entertainer -- just a passionate enthusiast!
Brian Cox Winnipeg, Manitoba, Canada
Brian Cox's interest in string and rope figures began many years ago when he was in "Cubs and Scouts." Little did he know then that he would one day be known as the "Incredible String Man." Now, at age 50, he finds himself traveling all over Canada teaching string figures, origami, magic, and juggling. Each 45-minute performance is followed by a "Whimsical Workshop" session in which observers are taught to perform. His philosophy is to "give children an opportunity to try various things, otherwise, how else will they learn?"
Brian's list of activities is truly impressive. When not on the road he works as a counsellor at the Manitoba Youth Centre where he shares his talents with incarcerated kids. Brian believes that mastering a difficult string figure or a tricky paper fold helps kids develop confidence. Since 1983 Cox has served as hands-on activities coordinator at the Winnipeg International Children's Festival, and as "Kids' Area" coordinator at the Winnipeg Folk Fest. Each year he organizes the folding of a thousand paper cranes, which the children string together to form a mobile. Brains face is also familiar to local TV viewers. For seven years he appeared on a kids' program that was broadcast throughout the province and as far south as Minneapolis. In 1995 he co-hosted a 39-episode cable TV program devoted to origami. "If it's fun, I do it" says Cox. "I like to perform, but the kids are usually as entertaining as I am."
C.J. Hartman Castle Rock, Colorado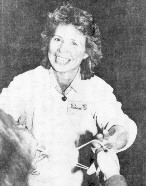 For many years C.J. Hartman, an eighth-grade science teacher, has been using string figures in her classroom to increase motor dexterity, promote map skills, and encourage cooperative learning. "Once you learn one," she explains to her students, "it's your responsibility to turn to someone else and make sure they learn it." And they do! "It's a real neat cooperative process."
Native American string figures are among her favorites. Several years ago C.J.'s interest in Native American culture prompted her to spend several months exploring Zuni, Hopi, and Navajo country. Her studies earned her a Master's degree from the National Audubon Expedition Institute. Upon returning to Denver she met Bob Morgan, a Navajo rug weaver who teaches a string games class. Since then string figures have become one of her passions. "Each string figure tells something about the people who did them, what superstitions they had, what things were important to them, and what things made them laugh."
C.J. now presents string figure workshops on a regular basis throughout Colorado. In her ten years of presenting workshops to students and adults at the annual "Stalking Education in the Wild" seminar she's developed a circle of followers that now exchange new string figures with her at each meeting. She has also participated in a teaching exchange on the Navajo reservation and has traveled to Australia and New Zealand with her string show. She even met James Murphy (Black Fox of Learning Hands fame) on his way through Denver several years ago. C.J. loves interacting with fellow enthusiasts and heartily agrees that "it's time for an international conference."
Rainbow String Now Available
Rainbow string -- string that changes color every few inches -- is ideal for making string figures. With rainbow string one can easily trace the string's path as it winds through the design. In 1993 the people at Klutz Press decided to attach a loop of rainbow string to the cover of their new children's book entitled "Cat's Cradle: A Book of String Figures." Today, the book and its sequel (String Games from Around the World) are among the best-selling string figure books ever published. It's therefore no surprise to learn that Klutz Press refuses to divulge the source of their string ("somewhere in Asia" is the usual reply).
Fortunately, a new brand of rainbow string is now available in the US (and probably elsewhere judging from the French and Spanish text on the package). The product (item # 21174) is marketed by Manco, Inc., Westlake, Ohio, 44145, and can be purchased in the US at most K-Mart and Wal-Mart stores. A nine-foot segment (2.74 meters) sells for less than $2. Unlike the string distributed by Klutz Press, Manco's string is truly "rainbow" -- the string changes from magenta to red, orange, yellow, green, blue, and violet along its length (to view a sample visit the ISFA web site). Manco's string is also thinner (2 mm) and smoother (like satin). And yes, the ends can be joined by melting them in a flame!
Readers interested in purchasing large quantities should contact John Copis at Stay-Co Supply, P.O. Box 372, Creston, Ohio, 44217. Within the US call toll-free 1-800-228-1096. To qualify for the wholesale price ($0.84 each) you must purchase at least one case of 144 strings. A $10 service charge applies if your order is less than $250. Unfortunately, spools of uncut string are not sold.
Professor Luis Bonilla Joins Volunteer Staff
Professor Luis Bonilla of Rubio, Venezuela, has graciously offered to translate into Spanish, and distribute within his country at his own expense, excerpts from our Bulletin and Newsletter. In this way he hopes to inspire his colleagues to actively seek out and perpetuate string figure knowledge. Professor Bonilla explains that currently, the information preserved in our Bulletin remains inaccessible to people in his country, not only because of the language barrier but for economic reasons as well (the cost of a subscription would consume a good portion of the average paycheck).
If you are bilingual you can help too! We are currently seeking volunteers willing to translate our brochure and World Wide Web page into other languages. Our brochure is free upon request.
Classic Inuit String Figure Book For Sale
ISFA Press recently acquired a small supply of "Eskimo String Figures" by Diamond Jenness, published in 1924 as volume 13, part B of the series entitled Report of the Canadian Arctic Expedition, 1913-1918. This rare, 192-page monograph is considered by many to be the definitive work on string figures of northern Alaska and the western Canadian Arctic. The book features instructions for making 156 string figures and 12 tricks, all written using the anatomical nomenclature developed by Rivers and Haddon (proximal, distal, radial, ulnar, and so forth). Illustrations consist of highly accurate drawings of the finished patterns mounted on cards.
Be forewarned that this book is not for the beginner! Inuit (Eskimo) string figures are among the most difficult to make from written instructions, and Jenness's instructions are not always clear (revised instructions will begin appearing in our Bulletin this year as part II of the "Arctic String Figure Project").
In an effort to alleviate our never-ending financial woes we are asking $20 per copy, postage included. Yes, you can photocopy the book at your local university library for less, but the money you spend won't be helping ISFA! So, if the idea of owning an original copy of this long out-of-print classic appeals to you, don't delay! As mentioned earlier, we now accept Visa and Mastercard in addition to checks and money orders.
Forthcoming Articles
Work on volume 4 of our Bulletin (September, 1997) has already begun. If you wish to contribute an article please do so no later than June 1. This year we go to press August 1, leaving only 2 months for the editors to test all string figure methods, request revisions, and obtain page proof approval from the authors. If you are preparing your own illustrations please follow the guidelines found on the last page of our Bulletin. If you would like a member of the editorial staff to prepare the illustrations for you, simply tape your string figures to a sheet of paper so that we can scan and reduce them, or send us crude sketches so we know how to arrange the final pattern.
Several articles have already been submitted or are currently being written. Michael Meredith is taking a close look at the fascinating life of Caroline Furness Jayne and her family. His research provides great insight into the circumstances that allowed her to prepare and publish her monumental book in such a short period of time. He also reveals the cause of her untimely death at age 36. Brian Cox provides us with a sample of his storytelling skills, supplemented with illustrations of the string figures he uses during his 10-minute narrative. Sergei Rjabchikov continues to explore parallel themes found in string figure designs and ancient scripts, and hopes to submit another paper this year. Richard Darsie, Ron Read, and Mark Sherman will present part II of the "Arctic String Figure Project." In part II, revised methods and intermediate-stage illustrations will be provided for a portion of the Eskimo figures collected by Diamond Jenness. Edd Sterchi (Wakahana to his fellow Native Americans) is writing an autobiographical account of his childhood string figure experiences. Tetsuo Sato and Kazuo Kamiya continue to examine the unpublished work of the late Dr. Eguchi. This time they present Eguchi's analysis of Tikopian weaving techniques and show how additional steps can be introduced to increase the complexity of the "net" figures the Tikopians are so fond of making. Joseph D'Antoni will present the history behind what may be the first recorded string figure. Yukio Shishido will dazzle us with another sampling of his ornate "Geometric Figures." Udo Engelhardt is preparing English translations of two unpublished manuscripts written by Erich von Hornbostel, one describing an original nomenclature for recording string figure methods which was later adopted by German ethnographers, the other on the use of string figures for establishing cultural connections.
The showcase article for the 1997 Bulletin will be Carey Smith's "String Figures from the Congo." The article features seventy-four string figures gathered by Smith's mother between 1910-14. Smith also re-examines Starr's Congo collection and proposes methods for making thirty-nine of the sixty-two string figures he gathered. Smith's article confirms that many great string figure collections have yet to be published.
This year our "Letters to the Editor" section will feature another article about Kathleen Haddon, first published in 1916, and an illustrated account of an impressive string figure exhibit put together by Richard Ratajczek of the Rare Book and Special Collections Department, University of Sydney. The volume will conclude with some really novel "Modern String Figures" extracted by Tetsuo Sato from back issues of the Japanese String Figure Bulletin. The figures include: Maekawa's Butterfly and Origami Crane, Kosugi's Lottery -- a divination figure, Noguchi's Broom, Fish, and Letter F, Kamiya's Fourteen Diamond's and Double-framed Ladder, Kasahara's Elevator, which transforms into a Snail followed by a Footprint, and finally his Octopus-Cuttlefish-Crab series. Renew your membership/subscription today!
---
Last updated September 20, 1997
Return to ISFA Home Page.