ISFA News, Volume 5, no. 1 (March, 1999)
ISFA Publishes Fifth Bulletin
In late December the 1998 Bulletin was mailed to all members. Although three months overdue, many agree that it was worth waiting for. For the first time ever, readers were introduced to the string figures of China, Tibet, and Nepal. A lively tribute to Honor Maude was also featured, as well as the long-awaited second installment of James Murphy's series on using string figures to teach math skills. Two articles showcasing modern creations generated a lot of interest as well: Steve Newkirk introduced a highly effective new way of extending figures, and Martin Probert dazzled us with his never- ending series 'Evolving Star'.
The editors wishes to thank everyone for waiting so patiently as we struggled to eradicate errors and fine-tune the illustrations. The production of a highly technical 300-page book in three months time is no easy task! If you particularly enjoyed a specific article, PLEASE WRITE A LETTER TO THE CONTRIBUTING AUTHOR expressing your gratitude and admiration. Without your encouragement, chances are slim that first-time authors will continue to contribute.
1999 membership dues
This year membership renewal forms were included in the December 1998 mailing. Again we requested $25 from each member to help offset the cost of printing and mailing our publications ($35 for overseas airmail service). A space for donations was also provided on the form (many thanks to those who contributed extra, especially those who sent in $100 or more!!!). But so far, only 45% of last year's members have renewed...
Please be aware that membership dues and donations currently cover only HALF of our operating expenses (~$6000/year) -- the rest is borrowed! Also note that NO salary is drawn by our volunteer editors, and authors receive NO monetary compensation for their articles. Your continuing support is therefore ESSENTIAL to our survival. Once we reach our goal of 250 members our organization will be self-supporting. But until then we need your help!!! Encourage others to join whenever possible, and please pay your dues promptly (sending out reminder notices costs us $60)!
New Members
During the past six months the ISFA acquired twenty new members. Two previous members rejoined. If all of our 1998 members renew, we will have 184 members residing in 20 countries.
Our new overseas members are: Namolaru Mircea, Haifa, Israel; Rev. George A. G. Bennet, Wymondham, England; Dara Rüfenacht, Burgdorf, Switzerland, and Alan Bennett, Fossemagne, France. In Canada we have Erik Demaine, Waterloo, Ontario, and Anne Glover, Victoria, British Columbia. In the United States we welcome Andrew de Valpine, Dillingham, Alaska; Todd Key, Grantville, Georgia; Gwyneth Calvetti, West Salem, Wisconsin; Brenda Morman, Clark, South Dakota; Jessica Reuter, Webster, New York; Will Shaw, New York, New York; Maxine Weinstein, Fort Washington, Pennsylvania; Mike Sloey, Manchester, Missouri; Catherine Reeder, Ramseur, North Carolina; W. Bollinger, Pleasanton, California; Kathryn Ballard, Cincinnati, Ohio; Concetta Zito, Independence, Kansas; Steve Lincoln, Denver, Colorado; and Richard Watson, Lindenwold, New Jersey. Rejoining us are Analee Perica, Northridge California; and Mogege D. Mosimege, Montana Park, South Africa. Our library subscribers now include Yale University, New Haven, Connecticut.
"Fascinating String Figures" now available from Dover
In January 1998 Dover Publications purchased the rights to reprint material from String Figure Magazine; in January 1999 the resulting book hit the shelves. "Fascinating String Figures" is an eighty-page book featuring twenty-three string figures extracted from six back issues of our Magazine. The book is currently being sold in the United States, Canada, and Great Britain. In the U.S. it sells for the unbelievably low price of $5.95.
Although Mark Sherman and Joseph D'Antoni supplied all the drawings and text, International String Figure Association is credited as the author since many members contributed to the book, either directly by offering figures they created, or indirectly by suggesting new ways to draw and describe string figures. In fact, eight different members are mentioned by name in the book. Having ISFA on the cover also generates a lot of free publicity for our organization -- even if people don't buy the book, they still learn of our existence!
As many readers already know, Dover is one of the world's largest publishers of low-cost craft and activity books. For nearly forty years they've offered an unabridged reprint of Jayne's 1906 classic "String Figures" -- still a bargain at US $6.95. We are therefore quite fortunate to have Dover as our marketing agent.
But don't expect "Fascinating String Figures" to lessen our financial woes overnight: no royalties are forthcoming from sale of the book (instead, Dover offered a modest flat fee -- enough to finance the printing and mailing of six more Magazine issues). Nevertheless, we are hoping for a sharp increase in the number of new members this year as a result of having our address listed on the inside front cover.
Despite the lack of royalties, we still encourage all members to buy a copy since initial sales will determine whether the book is eligible for a second press run. Besides, it makes a great gift! If you can't find the book at your local bookstore, you can order it directly from the publisher (Dover Publications, 31 East 2nd Street, Mineola, New York 11501- 3582). However, you must pay by check or money order (Dover doesn't accept credit cards). Also, there is a minimum shipping charge of $4.00 — nearly the cost of the book itself! A far more convenient way to obtain the book (especially overseas) is to order it through the internet using your credit card. It's currently available from www.stringfigurestore.com (see below) or megastores like amazon.com.
Dave Titus opens "String Figure Store"
In January professional storyteller Dave Titus opened String Figure Store, an internet- based business offering books, videos, and prefabricated loops of colored string to enthusiasts worldwide. Among the books offered are classics by Gryski, Abraham, Akers- Johnson, Jayne, and Ball. His selection of videos includes Cutrofello's "Finger Jazz," Schutz-Gruber's "String Things," his own "String Magic from around the World," and Dave's latest offering "String Fun with the Parables" (look for a review in the 1999 Bulletin). Need loops for a demonstration? You've come to the right place: Dave sells colorful spliced loops made from 1/8" braided nylon.
For your convenience, all items can be purchased directly through Dave's secure web site (www.stringfigurestore.com) using your Visa or Mastercard. If you don't have internet access, call Dave at (580) 353-4710 and order by phone. And remember, Dave donates a portion of the proceeds from his video sales to the ISFA, so don't hesitate to buy an extra copy for a friend.
New look for String Figure Magazine
The format of our quarterly magazine has again been revised. Beginning with the March 1999 issue, curving arrows will be used exclusively to indicate what the fingers and hands should do to advance to the next illustration. As a result, readers should now be able to make each figure without consulting the associated text.
One of many illustrations in our newly revised Magazine.
The use of arrows is nothing new -- Japanese authors adopted this style years ago. In the West, the style was first popularized by Philip Noble in his 1976 booklet for the BBC ("Why Don't You?: String Games"). It was later taken up by Camilla Gryski of Canada, who used it quite successfully in her three classic books dating from the 1980s. Currently, Will Wirt is using it to annotate the splendid photos he has prepared for the Arctic String Figure Project, Part II.
The decision to adopt an arrow-based format was prompted by several concerns, the foremost being the need to reach a wider audience -- not everyone in the world speaks and reads English fluently! An arrow-based format eliminates any potential language barrier that may have existed in the past.
The use of arrows does not, however, mean that written instructions will be eliminated entirely. On the contrary, one of the main functions of our Magazine has been to introduce new members to the shorthand notation we use in our Bulletin (i.e., "1, over 2 loop, picks up 5n" and so forth). But now that "Fascinating String Figures" is widely available, the need for a Bulletin "primer" has lessened -- anyone wishing to master the shorthand can now study the examples provided in the book.
Readers will also note a change in the way loop size is defined. Rather than recommending a loop length measured in feet, we now employ a relative measure (spans) to define how long the string should be before the ends are joined -- a convention pioneered by James Murphy in the early 1980s. The change was prompted by a reader who pointed out that "children require smaller loops than adults." Now, by using spans rather than feet as the unit of measure, loop size is automatically adjusted to the size of the performer.
Arctic String Figure Project Update
During the past six months ISFA member Will Wirt has made tremendous progress with Part II of the Arctic String Figure Project -- the Jenness collection of Eskimo figures. The goals of the Arctic String Figure Project (for those who don't know) are: (1) to rewrite, using a consistent nomenclature, all previously published descriptions of how to make Eskimo string figures, and; (2) to provide the reader with illustrations of key intermediate stages.
Although revised methods for the Jenness figures have been available for nearly three years now (courtesy of Richard Darsie), a lack of illustrations has delayed their publication. But thanks to Will's skill with his newly acquired digital camera, the project is at last underway. Will's crisp, full-color images are stunning. Arrows indicate what the fingers should do next, and all string crossings are clearly visible.
One of Will Wirt's stunning photos for the Arctic Project.
In order to ensure that the revised descriptions are accurate and comprehensible to a majority of readers, the instructions and photos are being posted on the web as they become available so that members can view the pages, test the instructions, and offer feedback long before the book appears. Everyone is encouraged to participate (go to www.isfa.org/arctic/jenness.htm)!
BBC seeks Mammoth String Figure
Earlier this year a science documentary researcher employed by the British Broadcasting Corporation in London phoned the ISFA office asking for information on strings figures that represent extinct creatures. Specifically, the researcher wanted to verify that the Inuit people of Alaska actually make a string figure representing a woolly mammoth. She explained that the producers of the documentary wanted to use string figures to show how memories of ancient times are propagated and maintained among indigenous peoples.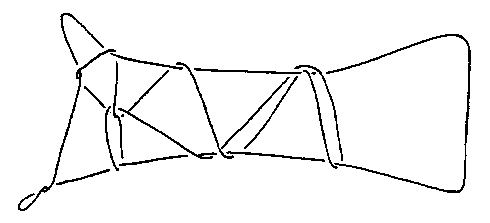 The Inuit string figure known as 'Mammoth' (reproduced from Paterson's article)
Fortunately we were able to supply the researcher with the requested information, and to suggest where they might find useful film footage. There is indeed a figure made by nearly all inhabitants of the Arctic which some call a 'Mammoth' (others call it a 'Mythical Monster' or 'Spirit of the Lake' -- see XXXIII in Jenness's monograph).
But not everyone agrees that the figure commemorates sightings of live creatures. On several occasions the Inuit people have uncovered perfectly preserved frozen carcasses while digging, which may have served as inspirations for their numerous legends and tales concerning this creature. Still, it's tempting to speculate that strings figures, like mammoths, are ice-age relics, so perhaps the theory is not so far-fetched after all. Anyway, let's hope that the producers decide to include the string figure in their documentary, and that ISFA gets credit for providing the information!
Member Profile
The following was contributed by ISFA member Paul Fleischman of Pacific Grove, California.
'Cat's Cradle' was the only string figure I grew up with. A large part of its appeal, I think, was that it was done with a partner. A few years after rediscovering string figures as an adult, I began thinking about assembling a string performance troupe. Thus "String Quartet" was born -- two adults and two 11-year-old children, performing in the Monterey, California, area. Let me describe our show.
Members of Fleischman's "String Quartet"
We dress in black. In the background, we play a tape of sprightly instrumental music on a tiny boombox. We usually perform in elementary-level classrooms, and so dispense with lighting or any other high-tech trappings. We also dispense with speech -- almost the entire show is wordless. The beauty, portability, sensual satisfaction, and infinite possibilities of string come out on their own. Afterwards, however, we take questions and tell a bit about the figures. Following ancient precedent, we've adapted, altered, changed names of figures, and invented our own.
We begin with a new roll of string, which we unwrap and use to make a loop -- measuring, cutting, joining over a flame, and trimming the joint with fingernail clippers. That string is then used for the first four figures, all solos, one by each member of the troupe. The names of the figures are displayed on large cards resting on a music stand. We then pull out a colored string and perform a second series of solos. Next, we tell the story of the 'Yam Thief' as a troupe, taking turns telling the tale, all performing the figures simultaneously.
A series of two-person figures follow: a 'Thumb Catch' (from Jayne's book), 'Cutting the Hand', the 'Ghost Dance' (from Gryski's second book), the 'Palm-Tree Climber' (made with a ten-foot rope, with one child on my shoulders and the other holding down the rope at my feet, allowing for an eight-foot high palm tree), then 'Cat's Cradle' -- first passed from one troupe member to the next, then executed by a pair, each with one hand in and the other hand free. The two-person figures conclude with 'The Saw', which we demonstrate and then take into the audience, letting pairs of kids take over, freeing us to start another 'Saw' and introduce it into a different part of the crowd. We make many converts here: that satisfying friction when operating 'The Saw' is clear in our audiences' faces. This also gives our young audiences a chance to talk and move around a bit.
After collecting the strings, I do three figures I invented using a small, plastic superhero action figure with jointed arms and legs, turning him into a parachutist, a man doing chin- ups, and a hang-glider pilot. Then comes a tale I wrote, called Lost, accompanied by a linked series of eight figures, concerning a resourceful girl's survival in a blizzard. Writing children's books is my day job; the story, with instructions for the figures, will be published next year by Holt.
We end with four gigantic, four-person figures using long nylon ropes, their ends joined by melting: the 'Cup and Saucer', 'Open the Gate', then a pair that we collaboratively invented using three ropes of different lengths. We lastly present the teacher with our four white loops, the roll of string, and a copy of the first Camilla Gryski book, from which many of our figures come.
Paul Fleischman with superhero doing 'chin-ups'
Second grade classes are our favorites -- their unbidden cries (Oooh and Cool!) make them a joy to perform for. Adults seem similarly transfixed. Though our audiences are otherwise wrapped up in computer games and high-tech gadgetry, they've without exception been rapt for the whole 30 minute show -- a testament to the power of the low- tech, to seeing people create their own entertainment, and to the protean powers of string.
String Figure Discussion Group: Summary of Topics
Since not everyone has access to e-mail and our string figure discussion group, a summary of topics posted since September is provided here. If a specific topic interests you and you would like a printed copy of the message and the responses it generated, contact ISFA Press.
Simplified moves for Jenness's 'Moon between the Mountains' (Probert)
'Broom' string figure seen in Japanese TV commercial (Sato)
Request for 'Man Climbing a Tree' method (Frane, response by Darsie)
Three-dimensional figures: Methods for 'Laia Flower' and 'Bird's Nest' (Engelhardt, Sato)
'Jesus in String' web page (Sterchi, Frazier)
Physical therapy using string figures (Noble, Holbrook, Cox, O'Connor)
'Cat's Cradle' in a jewelry ad (Pollock)
Debut of the Jenness 'Arctic String Figures' web page (Wirt, Pollock)
Japanese bridge named after string figure (Sato)
Spanish editions of Camilla Gryski's books (Harmer, Ceca)
Variation of 'Big Apache Door' (Sigwald)
Storytelling residency, string workshops (Titus)
Muscle memories of string figures (Kennedy, Titus, Burstein)
Insurance for string figure enthusiasts (Wirt)
Reindeer in Alaska; Siberian string figures (Wirt, Titus, Sherman)
Two-handed 'Winking Eye' (Lee); Giant 'Winking-Eye' (Titus)
Standardization of loop sizes (Lee, Sherman, Meredith, D'Antoni)
Essay on essential string properties: length, thickness, color, flexibility, seasoning (Meredith)
Native methods of string manufacture (Wirt)
References to cat's cradle in 'Lieutenant Horblower' by C.S. Forester (Noble)
Debut of internet-based 'String Figure Store' (Titus, Collier)
Variations of 'Broom' in South America (Wirt)
New Year's Eve string figure bash; underprivileged kids and string figures (Holbrook)
Newkirk's mats (Meredith, Noble)
String bags in Papua New Guinea (Noble, Cutrofello)
'Textiles Day' festival in D.C. (Weiss)
Book chapter about communicating with Aliens using string figures (McCarthy)
String figures in India: status report (Wirt, Titus, Noble)
Navaho figures: status report (Darsie, Wirt)
Jacob's Ladder on 'Ally McBeal' (Nelson)
'Locking the Loops'; 'One-Diamond' (Titus)
'Dog Dragging a Sled' (Wirt, Pollock)
Article about Audrey Small; 'Parables' -- new string figure video (Titus)
String trick in the 'Horse Whisperer' (Wirt)
---
Last updated November 4, 1999
Return to ISFA Home Page.