ISFA News, Volume 6, no. 2 (September, 2000)
Seventh Bulletin Nears Completion
Work on the 2000 Bulletin began in May and continues to progress at a steady pace. Again we are aiming for a press run in early November and mailing in mid-December. But given the sheer volume and complexity of the material we cannot rule out a significant delay, which means that overseas members may not receive their copies until early next year. Last year, in an effort to meet our end-of-year deadline, several embarrassing errors in the instructions escaped the editor's eye. Errors frustrate readers as they try to figure out why their design doesn't match the illustration. We therefore ask for your patience as we strive to generate a flawless product.
This year's issue will again most likely exceed 300 pages. As before, all the material is highly original and thought-provoking. This year's issue will open with a tribute to James Hornell, author of "String Figures from Fiji" and collector of numerous figures from Africa and India. His life as a marine biologist and expert on primitive watercraft is fascinating and helps explain how he was able to gather string figures from so many remote and exotic locations. Lois Stokes explores the ancient connection between string figures, divination, and healing in her essay called "String Figures and Shamanism." Sergei Rjabchikov presents linguistic evidence suggesting prehistoric contact between inhabitants of South America and Easter Island. Audrey Small describes an unusual string figure series she collected in New England which may, in fact, date from the colonial period. Alex J. Abraham offers a small collection of string figures from Ecuador, while Carey C.K. Smith shares some figures and tricks he gathered years ago in Sierra Leone and Ghana.
The showcase articles for this year's Bulletin are two by Will Wirt ("Some String Figures from Ethiopia" and "String Games of the Navajo") and one by James Murphy (Using String Figures to Teach Math Skills, Part 4: Vertical Nets and Tennis Nets). Wirt's Ethiopian article features photos of some rather bizarre-looking informants (bodies extensively painted and pierced!). His article on Navajo string figures includes methods for making 70 designs, many of which are published for the first time. An essay by Mark Sherman on the cultural significance of Navajo string figures is appended. James Murphy's latest offering will create a state of Nirvana among readers who enjoy making complex mesh-like nets. Most of his new designs begin with four or five-loop openings and require a four-span string! He also introduces an entirely new method of weaving, a procedure he calls "braiding". His new procedure is accompanied by a highly innovative symbolic notation for recording the required moves. And as always, the author offers guidelines for creating an infinite number of new designs.
One of many four-loop nets described in James Murphy's forthcoming Bulletin article
An exploration of the fine structure of string figures is presented by Martin Probert. The creative genius of Kazuo Kamiya is once again demonstrated in a series of articles that feature methods for making doubly-framed ladders, double caribous, mountains that increase in number, and some amusing animal string figures that require double-Navaho moves. Tetsuo Sato offers some imaginative geometric figures, including one that resembles the Summer Olympics flag. The issue concludes with book reviews and "Letters to the Editor."
We want to remind all readers that Bulletin contributors receive no pay for the articles they write (this is true of nearly all academic journals). Bulletin contributors submit articles because they love string figures and love sharing their knowledge with others. It's a selfless act that often requires hundreds of hours of tedious work. If you like something you read in our Bulletin, send the author a postcard, letter, or e-mail message expressing your admiration and appreciation.
2000 Membership Dues Update
We are happy to report that 85% of our 1999 members renewed their memberships for 2000, despite abysmal early returns (44% as of March 1). Some members complained that they did not see the renewal form tucked inside the 1999 Bulletin mailed last December. Therefore, forms for 2001 membership will be mailed separately.
Unfortunately there still seems to be some confusion among new members about when individual memberships expire ("I just paid! -- Why do I need to pay again?"). To simplify the bookkeeping all memberships expire at the end of the year regardless of when you first joined. Even if you join in December of 2000, you still need to pay dues again in January to begin receiving publications dated 2001. This is because members joining in December automatically receive everything published during the year 2000 in their first mailing ($25 worth of material). Complaints about "double payments" are therefore unwarranted. Furthermore, we still offer a free copy of last year's Bulletin to all new members (a $10 value), so the actual cost of first-year material is only $15. Perhaps the solution is to offer latecomers the option of purchasing membership for the coming year rather than the current year.
As a new member it is important to understand that the ISFA is not a profit-generating venture. Membership dues do not fully cover the cost of printing and mailing our publications. In fact, we actually lose money each year! Our minimal dues have remained the same for nearly a decade, even though printing expenses and postal rates have increased significantly. So how are we able to stay in business? Simple -- through the generosity of a handful of members who consistently contribute more than requested (our so-called "String Figure Angels"). But even if you're not rich you can help: If every member would recruit at least one new member, our financial woes would vanish overnight. Once we reach our goal of 250 members we will be eligible for a bulk mailing permit which will save us lots of money.
In addition to the 17 string figure angels mentioned in our March issue we wish to acknowledge generous contributions from the following individuals, all of whom donated at least $25 more than the requested amount or recruited a new member. They are: Cordula Feuerstack, Carey C.K. Smith, Camilla Gryski, Ron Read, Udo Engelhardt, Eugene J.D. Bowen, John Burnes, Dean Abel, Gelvin Stevenson, and Audrey Small. If you're name belongs on this list let us know — good deeds deserve recognition!
New Members
During the past six months the ISFA acquired 35 new members, the sharpest increase ever. However, 24 of our 1999 members failed to renew their membership for 2000. As a result, we now have 203 members residing in 19 countries.
Our new overseas members are: Ben Carey-Smith, Dunedin, New Zealand; Sarah Potton, Tauranga, New Zealand; Sylvie Travostino, Toulouse, France; Ian Ferguson, Bournemouth, England; and Annika Warms, Osterholz-Scharmbeck, Germany. From Canada we welcome Lori Lachance Murdoch, Courtenay, British Columbia. In the United States our new members include: Carol Lundquist, Frankfort, Illinois; Ed Henry, La Mesa, California; Mike Spiller, Houston, Texas; Sandra Rosenzweig, Berkeley, California; Troy Peters, Bryan, Ohio; Lorraine Nielsen, Davis, California; Donald Abel; Ashland, Oregon; Alycia E. Harrison, Cohoes, New York; Bonnie Abraham, Louisville, Kentucky; Stacey Anderson, Fort Collins, Colorado; James Lapp, Southampton, Pennsylvania; Kevin King, Frankston, Texas; Mary Beth Anderson, St. Louis, Missouri; Barbara Pease, Chico, California; David Eisenberg, Glendale, California; Arianna Rosenbluth, San Bruno, California; Elizabeth Andersen, Bay City, Michigan; Bob Grimes, Clarkston, Michigan; John Pinto, Hanover, New Hampshire; Avery L. Burns, Falls Church, Virginia; Judith Seaholm, Chadds Ford, Pennsylvania; Ruth Moore, Seattle, Washington; Carol Jaster, Chicago, Illinois; Anne Harris, Atwater, California; Rusk County Library, Henderson, Texas; Sara C. Pickett, Cambridge Massachusetts; Arnold Tubis, Carlsbad, California; Michelle Bailey, Star, Mississippi; and Richard Brudzynski, Dayton, Ohio. Rejoining us after several years are Deirdre Ní Cheallaigh, Dublin, Ireland; and Sato'o Kubota, Nagano, Japan. We look forward to your input, and hope you enjoy our publications.
New Magazines by Joseph D'Antoni
This year the June and September issues of String Figure Magazine were written and illustrated by Joseph D'Antoni of New York. Thanks to Joe members around the world are now enjoying a 'Fish' from Hawaii, a 'Mouth' from Alaska, a three-dimensional 'Basket' from Tonga, and a 'Solo Cat's Cradle' series from Japan. Other magazines by Joe include those dated September 1997, March 1998, and September 1998. He also contributed drawings to the September 1996, December 1996, March 1997, and June 1997 issues (who can ever forget his remarkable "Fox and Whale" drawings in the September 1996 issue?).
Joe is a physics teacher and longtime member of the ISFA. For many years he has patiently and quietly served as a volunteer associate editor of our Bulletin, checking each and every set of instructions submitted to him for proofreading. His keen eyes routinely catch mistakes missed by authors and fellow editors alike. Joe also checks all the drawings in every magazine issue to ensure that all string crossings are correct.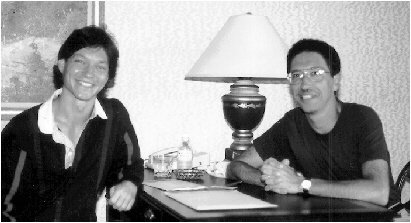 Mark Sherman (left) and Joseph D'Antoni (right) during a planning session in San Diego, California, August 8, 1994. A major topic of conversation was what to do if no one submitted articles for publication in the new Bulletin. Fortunately our fears were unfounded. Photo by May D'Antoni.
D'Antoni's ability to accurately describe complex hand movements using only words is a skill that few enthusiasts fully master. Innovative terms like "trap" and "upright" are entirely his own. Furthermore, he is largely responsible for popularizing the terse writing style we use in our magazine (1, over 2 loop, picks up 5n), this being a verbalized rendition of Storer's symbolic code. He's also a skilful artist.
Making the six string figures featured in each issue of our magazine can take as little as ten minutes, but that's only because folks like Joe D'Antoni spend 100 hours or more tracing photographs! Perhaps someday improvements in internet access will make an on-line edition with full-color photographs a viable publishing option, thus eliminating the need for illustrations that are inexpensive to print (the main reason we trace our photographs). An internet edition might also feature real-time video clips, thus approximating the "one-on-one" intimacy associated with traditional modes of teaching. But until then ISFA Press will continue to offer its low-tech, black-and-white version which doesn't require a modem to read!
String Stories and Stories About String
Three new books were published this year by members of the ISFA. Two of these present stories accompanied by a series of string figures, while the third is a novel in which string figures are a central theme. Each will be professionally reviewed in our forthcoming Bulletin. Our intention here is simply to make readers aware of them before the holiday season arrives.
The first is by Newbery Medal winner Paul Fleischman, author of several critically acclaimed children's books. "Lost: A Story in String" is a tale about a young girl who leaves home in search of a lost pet. Instructions for making a novel string figure series are included in the book (the designs illustrate events in the story). The series and tale provide an excellent vehicle for entertaining children at story time. Handsome woodcut illustrations are by C.B. Mordan. The 32-page book, published in hardback by Henry Holt and Company, New York, is priced at $15.95. (ISBN 0-8050-5583-5). Available from amazon.com.
"Pull the Other One: String Games and Stories, Book 1" is by English writer Michael Taylor. Here, the author presents five chant-like stories for the reader to recite as he makes the various string figures described in the book. Even the cat's cradle series is presented with a story that links the various designs. The drawings resemble those in Camilla Gryski's books, but without the arrows. A rainbow string, tucked in a back pocket, is included. This 128-page paperback book sells for £9.99 in the U.K. The publisher is Hawthorn Press, Gloucestershire, England. (ISBN 1-869-890-49-3). Available from the Scottish Book Source (see details at www.hawthornpress.com) or from amazon.co.uk (not amazon.com!).
"By Hook or by Book" is by Doris Meredith, wife of ISFA member Mike Meredith. D. Meredith is a writer of mystery novels. In this installment a murder takes place at a string figure convention (the victim is the owner of an unpublished manuscript by string figure guru Caroline Furness Jayne). Quirky characters abound. How can any serious string figure enthusiast resist buying a copy? Paperback, xi + 261 pages, Berkley Publishing Group, Penguin Putnam Inc., New York. $5.99 (ISBN 0-425-17465-4). Available from amazon.com or barnesandnoble.com
Third Bibliography Now Available
The third edition of "String Figure Bibliography," compiled by Tom Storer, is ready to ship. This important research tool is a list of books and articles that describe or mention string figures. Dr. Storer began working on the list in 1964 and has maintained it ever since. The third edition includes nearly 500 more entries than the second edition, which we published in 1996. The total page count is 150. The price is set at $19.95 -- just enough to cover the cost of printing and mailing. A searchable computerized version is currently being prepared. Check our web site in a few months for details on accessing it. Reminder: please send new entries to Tom Storer at 317 S. Division St., PMB #86, Ann Arbor, Michigan, 48104-2203.
ISFA logo Iron-on Transfers
Have you ever wanted your very own ISFA T-shirt or sweatshirt? Now you can make your own! ISFA member Pat Whale has volunteered to print and distribute iron-on transfers. The 5-inch-wide transfer features our logo (Jacob's Ladder) with the phrase International String Figure Association below it.
The transfer can be ironed onto a shirt of almost any color (except black, since the logo is black!). Pat spent many hours testing various transfers for durability and ease of application. She also wrote a page of detailed instructions to accompany each order.
Each transfer sells for $1 (add 60 cents for overseas airmail postage). To order send a check or cash directly to Pat Whale at 1524 Argyle Crescent, Ann Arbor, Michigan 48103. If you have questions about the transfers her e-mail address is pawhale@yahoo.com. Note to overseas members: to avoid excessive currency exchange fees simply ask us to add $1.60 to your annual dues payment for 2001.
Dave Titus heads for Mongolia to teach and gather string figures
ISFA member Dave Titus runs an internet business that markets string loops, string figure books, and related artwork (www.stringfigurestore.com). He's also the founder of "String Ministries," a not-for-profit organization serving missionaries. In late May Dave posted a message on the internet describing his upcoming trip to Mongolia. Let's hope he makes it back safely!
Well, I bought my ticket to Mongolia. I leave on August 1st and return on September 19th. I will be traveling with the vet a good bit of the time into the Gobi Desert region and then into the northern part of the country to meet the Reindeer people. It will be great to have him to help me. He will leave me with the Reindeer people (and a translator) to return later to the capital to teach at a Missionary Annual Conference. I am taking horse back riding lessons, as I will be riding most of the time when out of the capital. Horse mostly, but maybe camel and reindeer also.
When I went to Nepal last year I took over 4,000 multicolored nylon strings to give out. I asked how many I should bring to Mongolia, since it is very sparsely populated and I just received the reply: 20,000 strings. Yes, twenty thousand strings. There is a children's newspaper that goes to the countryside children. It is a professionally done full color publication with a circulation of 15,000. They are suggesting that it would be possible to include a string in each one and a note saying I will be in the countryside. WOW! What a chance to collect string figures.
The editors want to send some interested people with me to make a documentary video as I visit summer camps in the Gobi Desert region. They say "It is a very old game that the children have never played. It is almost forgotten." Then they want to make a teaching video to revive string games. (I have to go half way around the world to get someone to send a video crew out with me.)
Who would have thought that string figures would allow someone to travel the world?
String Figure Discussion Group: Summary of Topics
As of December 1999 our e-mail discussion group is now hosted by onelist.com. Unlike our previous host, onelist provides this service for free. For further details on how to subscribe contact Will Wirt at wlwirt@olympus.net. Below is a summary of topics from the last six months. If you're not a participant but would like a printed copy of a specific message, please write to us.
Another 'Snake' (Engelhardt)
Request for summary of ISFA terminology and for 'Cross' string figures (Huss, Wirt, Stokes, Mandolajoe, Titus)
Alternative methods/names for string figures in the March 2000 magazine (Hocking, Sharp)
Possible new collection of Papua New Guinea string figures (Noble)
Request for 'Mushroom' string figures (Abel, Namolaru, Wirt, Sherman, Probert, Reichert)
Direct method for making Jenness's 'Ptarmigan' (Elzinga, Sherman)
Request for string figures that represent fairies, dragons, lances (Huss, Noble, Sherman)
Third trip to Navajoland, request for string figures that help develop math skills in lower grades (Wirt, Hartman)
Variation of 'Boar's Jaw Biting' (Wirt, Sherman)
Description of recent string figure performances and workshops in Germany and Russia (Reichert)
Straight string variations of 'St. Lawrence Knot Trick' (Sato, Philpott, Titus, Sherman, Noble)
Performing string figures for a large audience (Titus)
The founding of "String Ministries" (Titus, Noble, Huss)
Request of translation of names in Paturi's book (Namolaru)
Storer's Ogre (Sherman)
String Figures and Shamanism link (Namolaru)
Request for two-person string figures for string figure dances (Usnic, Namolaru)
Rubber band figures (Vanmanen, Hartman, Cox, Noble, Sato)
Request for video "String Fun with the Parables" (Abraham, Calvetti, Titus)
Variations of Magazine figures 'Binary Stars,' 'Movie Screen,' and 'Finger Trick' (Sharp)
Untwisted versions of 'Apache Door' and a variation called 'Lizard' (Sharp).
Request for computer program to unravel and rebuild string figures (Scott)
Request for seasonal taboo information in Navajoland (Hocking, Titus, Wirt)
String missionary trip to Mongolia (Titus)
Noble's 2000 travel itinerary, possible European gathering in 2001 (Noble)
New ISFA Phone/FAX (Sherman)
String figure murder mystery novel (Meredith, Wirt)
String figure photo in "An African in Greenland" (Mandolajoe)
'Two Elevators' (Namolaru)
Accessing the discussion group archives, Ethiopian 'Grinder' (Wirt)
Report on recent trip to Alaska; more news about forthcoming trip to Mongolia (Titus)
Interpreting the 'Caribou' design (Abraham, Titus)
Alternative name for 'Dandelion' (Sato)
Taping of "String Ministries" video (Titus)
Maori string figure web site (Calvetti)
Continuations of 'Mouth' in June 2000 magazine (Wirt)
Lack of Renaissance string figures (Huss, Sherman, Small)
'St. Lawrence Knot Trick' alternative method; Grime's 'Star' (Titus)
Bible school string figures (Klon)
'Ovens' and 'The Crossings' in Maude's Pukapuka book (Wirt, Abraham, Klon)
Update on Honor Maude; Jacob's Ladder in the Pacific (Sherman)
Request for help with 'Moo-iki' method 1 (Namolaru, Stokes)
Simple origami, simple string figures (Namolaru, Wirt)
Press release concerning string figure demonstrations in Anchorage by Yupik elder Matthew Nicolai
Luomala article, Hawaiian CDs with string figure chants (Namolaru, Stokes)
Seasonal taboos (Lee, Wirt)
Hawaiian string figure taboos (Stokes)
Accessing the discussion group archives (Tilling, Wirt)
---
Last updated June 9, 2001
Return to ISFA Home Page.