ISFA News, Volume 7, no. 1 (March, 2001)
ISFA Publishes Seventh Bulletin
Because of its enormous size (and cost!) the publication of our 2000 Bulletin was delayed well beyond its target date (November 1). Still, I'm sure most members will agree that it was worth the wait. At 368 pages, it constitutes our largest issue ever. Over 300 string figures are described.
I would like to encourage all members to actually make the figures described in the latest Bulletin, not just admire the illustrations. You will be amazed by what you learn! Even simple patterns like Kamiya's "Doubly Framed Ladders" provide tremendous satisfaction when made on the hands. Granted, some of the more complex figures found in the second half of the Bulletin are likely to cause frustration as readers strive to achieve the picture- perfect extensions seen in the illustrations, but don't give up! Try experimenting with different string types and loop lengths, or try varying the tension you apply as you weave (much like a skilled pianist varies her touch to add nuance and color). And don't be afraid to ask a friend to arrange the pattern upon completion! A purist might call this cheating, but Nauruans did it all the time and considered it a necessary and desirable element of their art. With practice, you'll exceed your own expectations.
We want to remind all readers that Bulletin contributors enjoy your feedback, so if you like something you read in our Bulletin (or have questions about a specific figure), send the author a postcard, letter, or e-mail message. This year, the cost of printing and mailing our Bulletin was offset by a generous gift from the Shiro and Kiyoko Mori Charitable Trust. Please join me in thanking them for this overwhelming and very kind gesture.
2001 membership dues
Membership renewal forms were mailed in early February. Despite rising printing costs, we chose to freeze annual dues at $25 for members in North America. Overseas members were asked to contribute an extra $10 to cover the cost of airmail service (recently, surface mail rates for items weighing less than one pound were eliminated by the US Postal Service).
Please note that in an effort to save money we will no longer be sending membership cards as receipts. If you require a written receipt please request one when you renew. To check your membership status, simply examine a recent mailing label. The number in brackets after your name is the "paid through" year ([01] means "paid through 2001").
Become an Angel!
Last year the ISFA spent $9436 printing and mailing our publications, and $890 on operating expenses (web site maintenance, bank fees, phone service). Unfortunately, membership dues only amounted to $5250 (51% of our total expenses). The rest of the money ($5076) was donated, either by subscribers, authors, or members of our editorial staff.
Although we greatly appreciate every extra dollar sent in by members, we like to acknowledge our largest contributors by bestowing upon them the title of "string figure angel." As a result of their generosity we are able to publish three highly unique publications that will entertain string enthusiasts for years to come.
To become an angel, either send us an extra $25 when you renew your membership, or recruit a new member (please ask them to mention your name when they join). Our string figure angels for 2001 will be announced in the September issue of our newsletter.
New Members
During the past six months the ISFA acquired 16 new members. If all of last year's members renew their memberships this year, we will have 219 members residing in 20 countries.
Our new overseas members are: Julie Olsson, Republic of Nauru; Sonja Haupt, Bremen, Germany; and Michael Knaggs, York, England. In the United States our new members include: Roger F. Grillo, North Brunswick, New Jersey; Lynda Burris, Miramar, Florida; Luna Dara Kelondra, Memphis, Tennessee; Stephen Hilton, Canyon, Texas; The Dick Family, Wildwood, Missouri; The Drallmeier Family, Rolla, Missouri; Paula McConnaughey, Hixson, Tennessee; Carlyn Strand Sylvester, Arlington, Virginia; Nancy Reschke, Whitehall, Michigan; Bryan Leitgeb, Brooklyn, New York; Carole A. Graham, Northfield Falls, Vermont, and Eric Lee, St. David, Arizona. Rejoining us is James Craddock, W. Falmouth, Massachusetts. Your string buddies welcome you!
Ficelle is French for String
Here's a short essay contributed by Sam Cannarozzi Yada, visual storyteller and string art enthusiast. In it, Sam describes a recent string encounter with wine tasters.
Sam Cannarozzi Yada, teaching an audience the Polynesian name for each finger.
Réné and Janine Bigot were, until recently, the directors of the Soulet Ropeworks, about an hour and a half drive northeast of the French town of Bordeaux. They invited me to host a wine tasting party for a vintage called 'la Ficelle' or 'the String'. But first a bit of history.
Réné's family has been making rope since 1846. In fact he inherited the business from his uncle. After WW II there were about 700 independent ropemakers and perhaps a half dozen small industries in operation. You can imagine that the uses for ropes, strings, and cords, as well as their types, have changed greatly over the past 150 years. Twine for tying bales of hay, ropes for plows, boat rigging, etc., has given way to steel cables or nylon netting for grocery bags. So after the war different ropeworks decided to specialize -- one group now makes cording for the sailing industry, another makes netting for the automobile industry (those bags that hang behind your seats). Réné's company specializes in sporting and leisure goods: volleyball nets, ropes for swing-sets, and garden hammocks.
Réné learned the business by doing. But he explained to me that up until his uncle, all the directors of the company began as members of the ropemaker's guild and learned there trade through apprenticeship and journeymanship. In France and Europe there still exist guilds in the traditional, manual professions -- stone cutters, cabinet makers, etc. To become a professional ropemaker one had to pass a series of tests. For example, given the problem of making a rope of a certain length, thickness and for a particular trade, one had to prepare and measure the hemp and produce the finished product within certain parameters.
To bring things up to date, the Bigots and I met some ten years ago in St. Pourçain-sur-Sioule, a wine growing district in central France. The winegrowers were celebrating the 5th anniversary of their 'Ficelle' vintage. The completely apocryphal legend goes something like this: After the Hundred Years War between France and England, Gauthier, a local resident who had been conscripted, returned to St. Pourçain and opened a tavern. But he soon found that this clients were drinking more than they paid for. To remedy the problem he used a short, knotted string that he would dip into the wine jug to measure the volume consumed. Thus the name 'ficelle' or 'string.' For that anniversary Réné's factory wove a one kilometer long rope that encircled the historical center of St. Pourçain and that evening from table to table I played string games with the invited guests.
Réné and his wife are now retired. He is president of the local Rotary Club and still likes to organize wine-tasting dinners, this year for the benefit of the Old Sailor's Home of the port town of La Rochelle where he now lives. More than eighty people showed up. A considerable amount of 'ficelle' was consumed (it is a light and fruity wine, like Beaujolais) and once again, with loop in hand, I was the aperitif and dessert in the form of Cat's Cradle.
If you ever get the chance to visit western France it is possible to visit the Royal Ropeworks Museum in Rochefort sur Mer not far from La Rochelle. A fascinating place, it has preserved and still uses in demonstrations, the old hand-cranked rope-making machines. I was the official tour guide some time back, using string figures and games to recount the history of the building, for France's national Open House Day for Museums. But if France is not in your budget this year, next time you're out to your local wine bar, get a glass of ficelle from St. Pourçain and don't forget to ask for the string!!
Member Profile
Please join me in welcoming Beth Anderson of St. Louis, Missouri. Beth sent us the following letter describing her encounters with string.
Last year my husband discovered ISFA on the internet and paid my membership dues as a Christmas gift. Ever since I've been planning to order all the "back issue" stuff you have available. I tend to go overboard on anything I'm interested in.
When I was a child my grandmother taught me "Crow's Feet." It's the only one I knew for ~35 years. After discovering a child at my church doing some very simple "string things" (that's what I've been calling them), I worked until my fingers remembered how to do "Crow's Feet" (A friend who has been doing a lot of reading about brain research says that scientists have discovered that memory is located in cells and muscles all over the body -- I could have told them that!). But at the time of my 46th birthday I still knew only one string thing.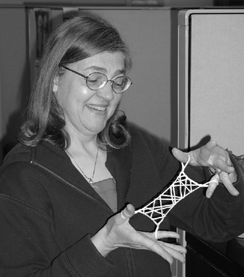 Beth Anderson with "Indian Blanket."
It was that July when my husband Gary and I took our 12.9-year-old nephew Matthew on a week's vacation to Michigan. We went to Greenfield Village in Dearborn, Michigan. There was a woman in old-fashioned clothes teaching lawn games. On the bench were some loops of string. I picked one up and did -- you'll never guess -- "Crow's Feet." She showed me "Indian Blanket" which she had just learned the night before. It was so beautiful (and is still my favorite) that I had to learn it. She didn't have it down pat, so we had to refer to a book she had (with pictures of Indians) in order for both of us to learn it.
Well, of course, I had to have string to practice while we were traveling and to help my fingers remember this new string thing. In some shop we came across the first Klutz Book on string games. By the end of the week, Matthew and I had memorized everything in the book except the two-person "Cat's Cradle." He could even do "Jacob's Ladder" with his eyes closed! I've been buying books and learning string things ever since.
One of my other strong interests is "church camp." I'm a diaconal minister in the United Methodist Church and that August I went as a counselor to a camp for 3rd and 4th graders. I took some string and started teaching "Jacob's Ladder." Before long, the children were teaching me new ones and they were teaching each other. The counselors discovered that we had less discipline problems than we'd ever had. During the very little free time that the campers have, they were doing string things instead of poking each other. String things crossed sex lines, race lines, and economic lines. The children who couldn't master "Jacob's Ladder" could learn some of the simpler ones that other children or I knew. It gave each child such a sense of accomplishment to learn one.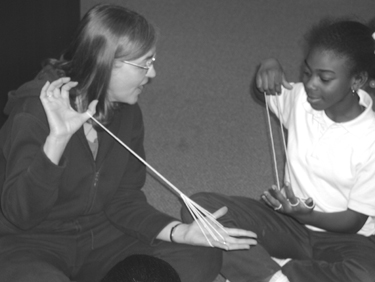 We did discover there is a drawback. We had to tell them at the beginning of each worship time, or campfire, or program, "Please put your string around your neck or in your pocket," in order to get their full attention. But it was a small price to pay for the large rewards we found.
The next year one of the other counselors and I took over as co-directors. We decided to capitalize on our discovery. At registration each year we give each child a string (their size). By the end of the four days we're together, everyone is doing string things -- even the boys who lost theirs (because they weren't interested at the beginning of the week) have come to get a string and learned at least one before they go home.
I save a special trick in case a boy gets homesick (I call it "Lane's Loop" -- don't remember if I've seen it in any of your publications -- it's the one that Robert Redford did in "Horse Whisperer" -- I think I screamed out loud in the theater when I recognized it.). Lane's Loop makes him feel special and gives him something no one else knows to share with others and help him make friends.
Boy, this sure is more than you probably wanted to know about me. What's interesting to me about the membership list you sent and the reading I'm doing in your publications is how many people are mathematicians. I was a math major in college and have my certificate to teach at the high school level -- but I've never taught math since student teaching during college. I always knew my interest in music and math went together, so I guess this isn't that big a surprise.
You're right (in the letter you sent with my original membership card) that it is hard to find others who are this addicted to string. I'm happy to have found ISFA (the internet is amazing!).
ABOINUDI at the World Festival of Cultural Sports and Games
ABOINUDI (Lothar Walschik, center) with mysterious guests at the 3rd World Festival for Cultural Sports.
For twenty years Bremen-based sports movement specialist ABOINUDI (otherwise known as Lothar Walschik) has been performing string figures throughout Germany: "Onlookers are spellbound by the smooth hand motions and the fact that so many patterns can be made with a single loop of string. Most are eager to try it themselves." ABOINUDI likes string figures because "they help develop patience, concentration, and dexterity. Each design presents a new challenge." Numerous institutions have acknowledged his talents, including the University of Bremen, the National Sports Federation, and the Dream Factory in Regensburg.
Recently, ABOINUDI and his followers, mostly students from the University of Bremen, were invited to participate in the 3rd World Festival of Cultural Sports and Games, a week-long event held last June in Hannover under the auspices of UNESCO (past festivals were held in Bonn and Bangkok; the next festival will be held in Montreal in 2004). Over 600 participants from 50 countries attended, entertaining more than half a million visitors. Throughout the festival ABOINUDI's group taught string figures to workshop attendees and participated in EXPO2000, a massive world's fair that was being held concurrently in Hannover. They also presented a highly acclaimed stage show in which performers, dressed in black, used a fluorescent rope to make giant string figures under a black light. By the end of the sports festival nearly every participant had a loop of string wrapped around their wrist!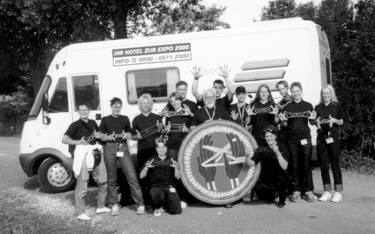 ABOINUDI's traveling band of stringers.
Since then, the group has received numerous invitations from schools and universities to conduct workshops. Currently, the German Federal Association for Memory Training is sponsoring their visits to senior citizen homes. In July 2000, ABOINUDI received permission from the German UNESCO commission to display their logo on his pamphlets and letterhead, a real honor. Incidentally, ABOINUDI is an acronym for ABorigines, INUit, and InDIans, these being the cultures with the most highly developed string figures.
Axel Reichert at EXPO2000
Nearly a century ago Mrs. Jayne collected string figures from indigenous peoples she met in the various pavilions at the World Exposition in St. Louis. A few months ago, Axel Reichert did the same at the most recent Expo, held this time in Hannover, Germany (June 1 through October 31).
At World Expos, held every five years, people from around the world gather to share ideas and visions of the future. Over 170 nations participated in EXPO2000, 49 of which built futuristic pavilions. Over 18 million visitors attended the five-month event, which featured over 20,000 concerts, performances, and cultural demonstrations. Of special note was the "animation" program, in which 69 different groups staged more than 3,950 performances. On July 22 and 23, Axel Reichert and eight of his students were the featured animation team, working in and around the "Big Tipi" (the largest Indian tent ever erected!).
Axel Reichert teaches biology and chemistry at Leibniz High School near Hamburg. Five years ago he organized a local chapter of the ISFA (which he calls the SFAG or "Schnurfiguren-Arbeitsgemeinschaft") in order to help his students develop fine-motor skills and sharpen their memories. "Learning to make string figures is like learning to play the piano, but a lot more fun!", says Axel. His fifth and sixth graders now meet once a week, and at each meeting they learn two new figures (over 100 per year!).
At the EXPO Reichert's group began their show with the string trick called "Mouse" (found in Jayne's book), but instead of trapping the five fingers of one hand with a string they trapped the bodies of five students with a rope! Then, upon gaining freedom from the noose, each student introduced himself and made a favorite figure (on their own hands). Two players then made the "Dancing Ghost" while a second group used a 15 meter rope to make a series of giant designs (Cup and Saucer, Sailing Ship, Eiffel Tower, Coat Hanger, and Sock on a Line). At the end of the series the audience was asked to blow until the sock "blew away" (dissolved), leaving only the line. The group followed this with Fish Spear held vertically (which everyone calls "Palm Tree"). At the program's conclusion the audience was invited to make a few simple figures, including Sand Flea, Rumanian Slip Trick, Opening A Trap, Catching a Cockroach, Sewing Machine, and Cup and Saucer.
Members of Reichert's SFAG at EXPO2000 with "Palm Tree" (Fish Spear displayed vertically).
Between performances Axel collected a few string figures from exhibitors in the African and Papuan pavilions, including the charming Nigerian figure called "Mouse Face" which appeared in a recent issue of our Magazine. The remaining figures he collected will appear in the 2001 Bulletin.
---
Last updated November 24, 2001
Return to ISFA Home Page.