ISFA News, Volume 7, no. 2 (September, 2001)
Eighth Bulletin Preview
This year's Bulletin, currently in production, is jam-packed with a wide variety of new and original material. Like last year's Bulletin, it will most likely exceed 300 pages.
The 2001 Bulletin will open with a tribute to Canadian author Camilla Gryski. During the 1980s Camilla Gryski authored three classic children's books on string figures ("Cat's Cradle's, Owl's Eyes: A Book of String Games," "Many Stars and More String Games," and "Super String Games."). These three books, all of which featured step-by-step arrow-annotated drawings, were immensely popular in North America, having remained in print for over 15 years. The first book was translated into several foreign languages, including Icelandic! The Gryski tribute will include a biography, a complete survey of her books (including new titles devoted to other children's games), interview excerpts, details of her collecting adventures in the Arctic, notes on her current work as a therapeutic clown, and anecdotal tales about the production of her books.
Sam Cannarozzi Yada spent the winter reading about consciousness and the nature of physical reality. His reading exposed him to the teachings of physicist Niels Bohr and something called "super string theory." As a result, Sam has identified several interesting parallels between properties of string figures and properties of subatomic particles, which he explores in an essay entitled "Of String Figures, Quarks, and Super Cords."
Russian linguist Sergei Rjabchikov continues to explore connections between Oceanic string figures and prehistoric writing in a new article on Fijian petroglyphs. Rjabchikov's glyph work was recently featured in a documentary on Easter Island that aired on US television earlier this year.
While Sam Cannarozzi Yada was reading about modern physics, friend and colleague Philip Noble was exploring the jungles of Papua New Guinea, revisiting many of the sites he visited in the mid-1970s as a missionary with the Anglican Church. During those years Reverend Noble was able to amass a huge collection of string figures, which he published as a book in 1979 ("String Figures of Papua New Guinea"). Many of his informants were still living in the same villages when Philip visited them this year, and many still remembered him! This year's Bulletin will include a short essay describing his recent adventures, along with instructions for making several new figures he collected.
Between 1907 and 1909, German anthropologist Günter Tessmann made a fine collection of string figures among the Pangwe (Fang) people of West Africa, who now live in Cameroon, Equatorial Guinea, and Gabon. Unfortunately, he chose to illustrate only 6 of the 40 figures he collected when he published them in the journal Baessler Archiv. Furthermore, his cryptic descriptions are written in old German. As a result, the figures are inaccessible to modern string figure enthusiasts. This past year, ISFA member Axel Reichert spent many hours translating Tessmann's descriptions from old German to modern English. Based on Axel's excellent translations, Mark Sherman was able to make and illustrate all 40 figures. The revised article will appear in this year's Bulletin, along with a brief biography of Günter Tessmann.
In addition to translating the Tessmann article last year, Axel Reichert spent some time collecting African string figures at EXPO 2000, which was held in Hannover, Germany (see the previous issue of our newsletter). His informants were from Mali, Nigeria, and Mauretania. His Nigerian informant taught him a delightful series that ends with 'Mouse Face' (see the March issue of String Figure Magazine). Additional figures and photos will appear in Axel's second article.
This history and ultimate origin of the two-player 'Cat's Cradle' series is shrouded in mystery. In English literature it is first mentioned by Tucker in 1768. However, most scholars now agree that the game was brought to England from the Far East by sailors engaged in the tea trade, which developed between 1650 and 1770. String figure artist and long-time ISFA member Yukio Shishido of Kyoto has uncovered evidence suggesting that the game was already quite popular in Japan as early as 1655. In his scholarly essay, Shishido summarizes recreational activities of the early Edo period and reproduces illustrations from ancient scrolls that show just how long the game has been known in the Far East.
In January Will Wirt and Mark Sherman decided to return to the Navajo Indian reservation in Arizona to distribute free copies of their article "String Games of the Navajo." While there, high school teacher and cultural specialist Don Mose asked them to film his students making string figures so that an instructional video could be prepared as part of a school project. As a result, Will and Mark were able to collect several dozen new string figures. Furthermore, the tapes allowed them to study subtle variations in technique that they had overlooked on previous visits. Their findings will be published in an article entitled "String Games of the Navajo: Supplemental Notes and Additional Figures."
In April Mark Sherman spent a glorious week rummaging through the archives of the Canadian Museum of Civilization. This was something he had been wanting to do for over 10 years. He was primarily interested in the unpublished works of Frederick Waugh, an anthropologist who worked under Diamond Jenness. Mark's efforts were richly rewarded. While there, he secured three new American Indian string figure collections: a fine collection of Naskapi-Montagnais string figures (lower Quebec), many of which appear to be of Inuit origin; a splendid collection of Ojibwa string figures (western Ontario), the first ever from an Algonquian tribe; and a small but significant collection of Coast Salish string figures (British Columbia). The Ojibwa collection will appear in this year's Bulletin. The other two collections will appear in the 2002 issue.
Retired physician Carey C.K. Smith of New Zealand spent the last two years creating string figures that resemble each letter of the English alphabet. His immensely entertaining collection is illustrated by stylish drawings and photographs.
Ever wonder how 'Cat's Cradle' is played in Europe? In a highly original article, new member Joaquim Paulo A. Escudeiro shows us how Portuguese children play the game. Surprisingly, the Portuguese version includes several asymmetric patterns never before reported.
Although James Murphy has completed his series on using string figures to teach math skills, he is still actively exploring new avenues. Recently he decided to examine the effects early movements have on the center of an evolving string figure design. This he calls "opening theory." The designs he tabulates are simple, but the principles governing their formation are not. A firm understanding of opening theory is essential for anyone who wishes to learn how to rationally design a figure.
Along similar lines, Frank J. Oteri (one of Murphy's many pupils) has been contemplating three dimensional equivalents of common openings. His work has culminated in the creation of a 3D version of Jayne's 'Two Chiefs,' which begins with a loom originally proposed by Yukio Shishido of Japan.
Last but not least, this year's Bulletin will end with another fine selection of new figures from Japan. Tetsuo Sato is famous for his multi-loop creations. This year he offers a multi-loop version of Oteri's 'Towers of Hanoi' and Murphy's 'Tennis Net.' String figure artist Kazuo Kamiya, who specializes in realistic animal string figures, presents some nice variations of raven, porcupine, and seagull.
Because of its complexity, size, and cost, this year's Bulletin will most likely arrive late - currently we are aiming for a press run in JANUARY OF 2002. As always, we apologize for the delay and remind our readers that we are operating with a very small, often-overworked volunteer staff of editors who do their best to ensure that all instructions and illustrations are accurate. Thanks in advance for your patience.
String Figure Angels for 2001
Because we are such a small group, membership dues only cover about half of our printing, mailing, and operating expenses, which amount to roughly $9400 a year. The shortage is covered by donations from generous members who can afford to give more than the requested amount ($25 within North America, $35 elsewhere). Although we greatly appreciate every extra dollar sent in by members, we like to refer to our largest donors as string figure angels. Angels are members who contribute at least $25 more than the requested amount, or recruit a new member. Archangels are members who contribute $100 or more.
This year we wish to extend our sincere thanks to the following string figure angels: Claire Miller; Cathy Salika; Henry Rishbeth; Marcia Gaynor; Mike Mangan; Mike Sloey; John Sigwald; James Foerch; Paul Fleischman; Pat Whale; Paul Power; Fred Alcantar; Andrew DeValpine; Belinda Holbrook; Frederick Dick; McDaniel Carthy; Sam Cannarozzi Yada; Ian Ferguson; Gelvin Stevenson; Stacy Anderson; Ron Read; Agnes Tomorrow; Camilla Gryski; Tetsuo Sato; Yukio Shishido; Richard Brudzynski; Brian Cox; Julie Olsson; and Michael Knaggs.
Our string figure archangels for 2001 are: Geoffrey Shephard; James Murphy; Eugene Bowen; David Titus; Lois and Earl Stokes; Steve Newkirk; David McDaniel; David Parkinson; William Lawrence; John Burnes; Udo Engelhardt; Joseph D'Antoni; Will and Lillie Wirt; Tom Storer; and Mark Sherman.
Your support is much appreciated. Without your help there would be no Bulletin!
New Members
During the past six months the ISFA acquired 26 new members. 32 of last year's members failed to renew their memberships this year. As a result, we now have 220 members residing in 21 countries.
Our new overseas members are: John Kean, Lincoln, New Zealand; Boel Markund, Skelleftea, Sweden; Ushio Ikegami, Tokyo, Japan; and Joaquim Paulo A. Escudeiro, Cacém, Portugal. From Canada we welcome Karen L. Kavanagh, Vancouver, British Columbia. In the United States our new members include: Roberta Lenkeit, Modesto, California; Laura Waterstripe, Sheds, New York; Danny Waskiewicz, Livonia, Michigan; Judith Benvin, Taylor, Michigan; John Metzger, Middlesex, New York; Amy Ahrens, Stanwood, Iowa; Mike Hammond, Tucson, Arizona; Paola Igliori, New York, New York; Lucy Kemnitzer, Santa Cruz, California; David Hiatt Batty, Bemidji, Minnesota; Mary Ellen Shu, La Mesa, California; Quentin D. Read, Durham, North Carolina; Denis Lucey, Santa Rosa, California; William D. Garrison, Buffalo, West Virginia; Christopher James Sullivan, Minnetonka, Minnesota; Brian Irwin, Raleigh, North Carolina; Leslie Harper, Jersey City, New Jersey; and Cynthia Taliaserro, South Freeport, Maine. Three former members rejoined: Mogege Mosimege of South Africa; Briar O'Connor of Auckland, New Zealand; and Jerzy Kocik of Carbondale, Illinois. We hope our organization brings you great pleasure!
More Rainbow String
In one of our 1997 newsletters we advertised the availability of rainbow string (string that changes color every few inches). With rainbow string one can easily trace the string's path as it winds through a string figure design. Furthermore, kids love it! In 1997, 5-yard segments were being sold by Manco, a US toy manufacturer. But shortly thereafter Manco was purchased by a German company and rainbow string was discontinued. A similar product is still being sold today by a craft company in California (Westrim). But again, only 5-yard segments are available, and you must have a resale license to purchase large quantities. Uncut rolls are only available from the manufacturer, based in Taiwan. Fortunately it is now possible to buy 40-yard segments from the Oriental Trading Company, based in Omaha, Nebraska, USA. The price listed in their catalog is very reasonable - a mere $2.95 (compared to $0.99 for the 5-yard segment sold by Westrim). Furthermore, the company accepts international orders.
The string appears to be 1-2 mm thick and is made of nylon (which means you can flame the ends and join them to form a loop). It's not twine and it's not braided like drapery cord or mason line. Rather, it's smooth, having the texture and look of satin. To examine a photo of the string or to place an order, visit the company's web site at:
The product code is SV-12/1047 (Nylon Rainbow Cording). If you don't have internet access, you can place a credit card order by mail, phone, or FAX. Within the US call 800-228-2269 (Monday through Friday 6 AM to 11 PM, Saturday and Sunday 7 AM to 8 PM). International customers should call 402-331-6800 (Monday through Friday 8 AM to 4 PM). You can FAX credit card orders to 800-327-8904, or 402-596-2364. The company accepts Visa, Mastercard, Discover, and American Express. US customers can also pay by check or money order when submitting orders by mail.
Shipping rates within the US are $6.95 for orders up to $25.00, $7.95 for orders of $25.01 to $50.00; $8.95 for orders of $50.01 to $75.00, and $10.95 for orders of $75.01 to $125.00. International customers should add 50% to their order total to cover shipping and handling. The balance due will be billed or overpayment will be refunded. To request their 200-page catalog call 800-327-9678.
On the Road
Several prominent members of the ISFA did a lot of traveling this year. While on the road, they often seized the opportunity to interact with fellow string enthusiasts.
In early January ISFA co-founder Philip Noble and his wife Rosalind spent two weeks in Los Angeles, where Philip attended lectures and workshops at the Fuller Seminary (Reverend Noble is currently pursuing a doctoral degree). While there, he met with Mark Sherman, current editor of the ISFA Bulletin. Sherman and the Nobles spent a wonderful afternoon trading figures and stories. Of special interest was an elaborate two-player series that Philip collected many years ago. The series is interesting because each player contributes only one hand (the two hands act in unison). They also discussed the feasibility of reprinting Philip's 1979 book "String Figures of Papua New Guinea," which is now quite difficult to obtain.
Reverend Philip Noble and his wife Rosalind.
In April Mark Sherman traveled to Toronto where he spent a day interviewing Camilla Gryski, author of several classic children's books on string figures. Mark and Camilla spent several invigorating hours going through scrapbooks, newspaper clippings, photo albums, videotapes, and other memorabilia devoted to her books. Throughout the session they maintained their energy levels by snacking on homemade gingerbread. That evening the Gryskis treated Mark to a sumptuous meal which included Atlantic salmon and fresh asparagus. Sherman's interview with Camilla Gryski will appear in this year's Bulletin.
Camilla Gryski and Mark Sherman with string figures.
In early July string figure guru James Murphy traveled to Los Angeles where he spent a day with Mark Sherman. After feasting on sushi the two retired to a park where they played with string for hours, like two kids in a sandbox. As a welcoming gift Mr. Murphy gave Mark a massive assortment of hand-crocheted string loops, each having a unique size and texture. The assortment included loops made from crocheted satin (perfect for making 'Tennis Nets'), and loops made from a rare blend of nylon and wool (perfect for making 'Murphy's Mouth'). Now we know how James Murphy achieves such perfect extensions! Near the end of their session Mr. Murphy showed Mark how to incorporate rubber rings into various string figure designs, a technique that was quite popular among his students about 15 years ago. He also demonstrated some figures made from a new opening (upside-down Opening A). Look for these in a future issue of our Bulletin.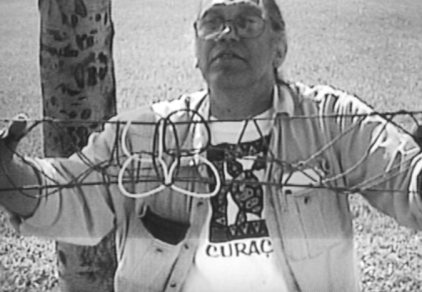 James Murphy displaying a string figure with five rubber rings embedded in the design.
In July Mark Sherman fulfilled a life-long dream to visit Vancouver Island, Canada, home of the Kwakiutl Indians. In 1992 the University of Washington Press published a book on Kwakiutl string figures which Sherman wrote in collaboration with Russian ethnographer Julia Averkieva. Averkieva collected the figures at Fort Rupert and Alert Bay in 1930, just as knowledge of string figures was beginning to fade. Sixty years later Sherman found the manuscript in New York and prepared it for publication.
Unfortunately, Sherman's highly technical book was written mainly for anthropologists, not the modern Kwakiutl people. This always bothered him. He vowed that someday he would visit the Kwakiutl who still lived at the north end of Vancouver Island, and show them, in person, how to make all the wonderful string figures they shared with Averkieva so many years ago. Realizing that his "students" would probably forget everything he showed them as soon as he left, Sherman also decided to prepare and distribute a home video showing how to make all the string figures and tricks in his book.
During his visit, Sherman was fortunate to have Will and Lillie Wirt as tour guides (the Wirts live in the United States, but can see Vancouver Island from their living room window). In a mere four days, Sherman and the Wirts managed to visit nearly a dozen museums and Indian culture centers, where their free demonstrations and workshops were always enthusiastically received. In Victoria they visited the Royal British Columbia Museum, where photoarchivist Dan Savard showed them a film shot at Fort Rupert in 1930. String figures do not appear in the film, but Julia Averkieva can be seen darting in and out of the scene to wind a gramophone.
Will and Lillie Wirt in the Olympic National Park.
At Campbell River Museum, public programs director Lorena Holmgren invited several Indian youth groups to participate in a workshop. One group, from remote Cortez Island (population 60), arose at 5 AM and caught two ferries in order to attend the 10 o'clock presentation!
At Alert Bay, home of the large and impressive U'mista Cultural Centre, Sherman met Gloria Webster, a respected Kwakiutl elder who can still speak and write Kwakwala. Remarkably, Ms. Webster was able to sing the chants that accompany many of the string figures in Sherman's book.
Mark Sherman in front of a billboard at Alert Bay.
Upon returning to Seattle Sherman met with Bill Holm, a world-famous Kwakiutl art expert who wrote the Foreword to Sherman's book. Bill shared his memories of Chief Mungo Martin and his wife Abayah, who often showed him string figures back in the 1950s. The trip concluded with a splendid hike through the Olympic National Park and a kayaking excursion arranged by Will and Lillie Wirt. Eventually, the videotape Mark Sherman made for the Kwakiutl will be added to the ISFA lending library, pending approval by tribal elders. A CD-ROM version, produced by Will Wirt, is also likely to appear.
---
Last updated May 28, 2003
Return to ISFA Home Page.